We now have 80,000 members — and counting!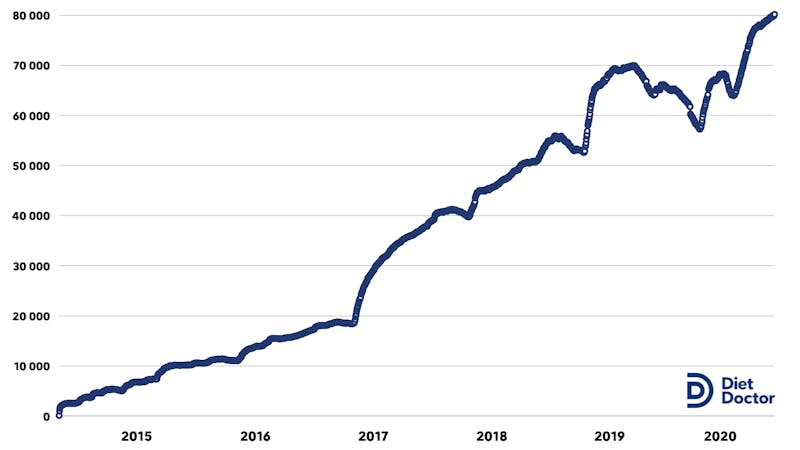 Drum roll, please… We just reached an all-time high of 80,000 paying Diet Doctor subscribers — thanks to everyone's support!
Due to Covid-19 (as well as some major Google updates and trends, etc.), the last year has been challenging for us. You can see the ups and downs displayed on the subscriber chart above.
Despite these difficulties, I'm extra proud of what our team has achieved. I think it's made us far stronger.
In fact, we've now got a team of 53 full-time coworkers, who are dedicated to empowering people to improve their health — and yes, we're hiring.
Even though we're now the #1 low-carb website in the world, our primary mission is still the same as it was in the very beginning. We aim to make low carb (including keto) simple for people who could benefit and are interested in dramatically improving their health.
The long-term vision of the company goes way beyond this, however, with an aim toward helping people with all lifestyle-related health. But to have the resources to effectively take on larger goals, we need to keep growing our company and strengthening our team.
Right now, we're primarily working hard at improving our core guides. And, we're also in the process of adding the ability to more easily personalize our provided meal plans to suit your goals and wants.
What product improvements would you like to see the most from us? Feel free to leave a comment below. We'll read them all.
Earlier