Professor Fredrik Nyström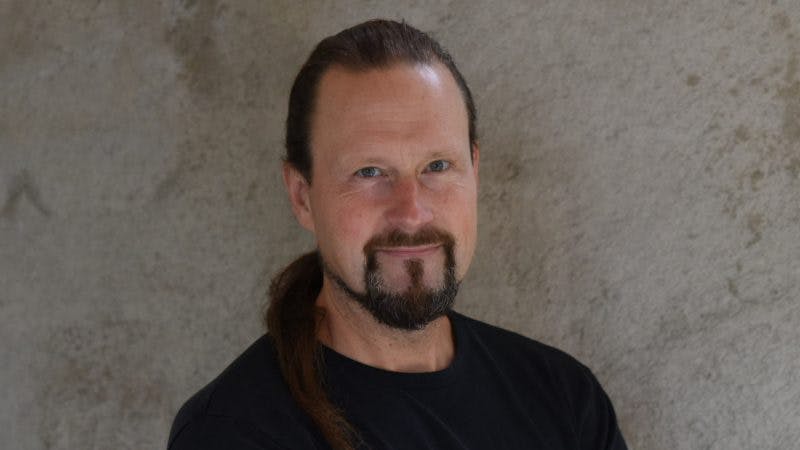 Fredrik Nyström is a professor of internal medicine and endocrinology at Linköping University in Sweden. He's also the chief physician of internal medicine in his clinic, where he primarily treats patients with diabetes or those who are overweight.
Professor Nyström studied medicine at Uppsala University in Sweden and moved back home to Östergötland County after finishing his degree in 1988. In 1997, he completed his doctoral dissertation, focusing on high blood pressure and its connection to those who are overweight or obese, while also doing on-call clinical work.
After finishing his dissertation and specialization in endocrinology (1994) and internal medicine (1996), Professor Nyström received an American scholarship, which financed two years of research at Washington D.C.'s National Institutes of Health in Bethesda (NIH) — the world's largest research center.
While studying at NIH, Professor Nyström partially changed focus from his previous work on high blood pressure and obesity risk factors related to studying how the hormone insulin works in fat cells.12
In the summer of 1999, after two years of conducting experimental research, he moved back to Sweden with his family. That same year, he took on a full-time position, combining the roles of physician and researcher at Linköping University. His research on fat cells continued in Sweden, but this time, with human fat cells taken from patients' stomachs during different procedures.
Together with his doctoral students, Professor Nyström developed the method he had learned in the US that uses molecular-biological methods to investigate human fat cells.3
Inspired by the documentary filmmaker Morgon Spurlock's movie Super Size Me, Professor Nyström carried out a variant of the same overeating theme on 18 healthy subjects.4 The study was largely a copy of Spurlock's setup by doubling participants' caloric intake and prescribing them no exercising for four weeks.
The study evoked significant interest. Many of the findings have made their mark in the research sphere — especially those that show how dangerous it can be to overeat carbs,5 while it was essentially good to consume large amounts of saturated fat.6
This caused Professor Nyström to conclude that the classical low-fat diet wasn't particularly good for one's metabolism and body, which stands in contrast to what has been adopted by the healthcare system at-large.
Other areas of research on the same theme showed that peanuts increased energy expenditure better than the carbs in candy and that the nuts didn't lead to the same weight gain.7
He also did a more direct low-carb, high-fat (LCHF) study together with Hans Gulbrand, a doctoral student, showing that a low-carb diet with extra large amounts of saturated fat (compared to a low-fat diet) led to better blood glucose control and less abdominal obesity,8 less need for insulin and less inflammation9 during active weight loss in patients with type 2 diabetes. What's more, he illustrated that the patients experienced a higher quality of life while on the low-carb, high-fat diet10 – a real victory in favor of avoiding carbs among patients!
More recently, Professor Nyström's focused on showing that feelings of fullness are greater. You have higher concentrations of the satiety hormone GLP-1 and lower concentrations of the hunger hormone ghrelin when you're eating a high-fat diet compared to a low-fat diet.11
In these same trials, he's shown that you expend more energy when you're eating plenty simultaneously, rather than eating smaller meals throughout the day. These findings are in line with the benefits of following a 16:8 fasting regimen or similar.
Fredrik Nyström became a professor and chief physician of internal medicine in 2008 at age 44. He was the youngest professor in the broad clinical sciences in modern times in Sweden.
Today, he's published approximately 140 scientific original articles (at a publication rate of 5 to 10 articles per year, see full CV below). In 2015, he wrote a review article highlighting the benefits of the low-carb, high-fat diet, together with MJ Quon, the researcher Professor Nyström visited in the USA.12
Given the many findings of his research, he's happy to be a part of the Diet Doctor team to help everyone who wants to join in on this health journey to live an as healthy, full, and long life as possible.
Medically reviewed evidence-based guides
Patients with pre-existing health issues
Potential conflicts of interests
I, Fredrik H. Nyström, have published many articles whose findings support the benefits of low-carb, high-fat eating.13
I declare that I prefer to eat LCHF to keep my weight in check. I do not eat porridge, cereal, or yogurt for breakfast. I declare that I have a certain weakness for red wine, which happens to be very common among internal medicine professors in Sweden. It's my opinion that red wine is a part of the Mediterranean diet, together with plenty of olive oil, nuts, and vegetables, as well as relatively few carbs, and I've conducted two studies that speak for the health benefits of red wine.1415
These days, I do not eat breakfast and mean that it's also a component of a healthy, Mediterranean diet: freedom from having to eat breakfast. This is in line with my own results that speak for many advantages of eating a few but large meals, like having lunch and a late dinner (with red wine).1617
I receive a salary from both Linköping University as a full-time profession and the Östergötland province as a chief physician. I'm the head of internal medicine at the medical faculty at Linköping University.
Sometimes, I also receive payments as a lecturer to the public and different companies that hire me, especially on the themes of overweight and cardiovascular disease and how to avoid these. I've also done investigations for various medical authorities in Sweden on the themes of diet, blood pressure, cholesterol, and cardiovascular disease. For these investigations, I've received compensation.18
I've written a popular science book on the topic of health (in Swedish) and have signed a contract to write another one planned for the summer of 2021 at the publisher Volante.
As part of my agreement with Diet Doctor, I receive consultation fees and have been granted Diet Doctor shares. Like other members of the Diet Doctor team, I am also eligible to purchase more company shares in the future.