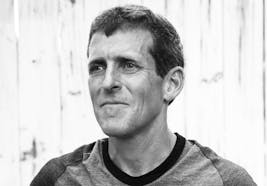 Dr. Mark Cucuzzella, MD, is part of the Diet Doctor low-carb expert panel.
Dr. Mark Cucuzzella, Air Force Reserve Lieutenant Colonel (ret), practices Family Medicine in Ranson and Martinsburg, West Virginia. He is a Professor at West Virginia University School of Medicine and conducts Continuing Medical Education courses on health, fitness, and running through HealthFitU and developed the US Air Force Efficient Running Program.
Mark has been an advocate for nutritional science and helped develop the MEDCHEFS program for WVU School of Medicine and has published several papers on low carbohydrate diet for Diabetes and Metabolic Syndrome. He has also been named a Distinguished Mountaineer by the Governor of West Virginia, a Blue Ridge Outdoors Pioneer, Air Force Athlete of the Year, Colorado Academy of Family Physicians' Teacher of the Year, is inducted into the Marine Corps Marathon Hall of Fame (2018), and has received the President's Award from the American Academy of Podiatric Sports Medicine.
He lives in Shepherdstown, West Virginia, with his wife and two children. His new book Run For Your Life summarizes the science and the soul of running, nutrition, and physical activity to help you maintain a vigorous life. Visit Mark's site at www.DrMarksdesk.com.
Mark's clinical practice is the WVU Center for Diabetes and Metabolic Health where he prescribes Medical Nutritional Therapy as a cornerstone of disease management and reversal.
More with Dr. Cucuzzella
More