Dr. María Eugenia Lima, MD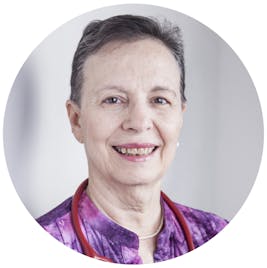 Dr. María Eugenia Lima, MD, has been a proponent of low carb for nearly three decades. Since 1995, she's used low carb to help patients within her private practice, which she now mostly runs from online. She, herself, eats low carb.
Dr. Lima got her medical degree 44 years ago. During her studies, she specialized in two areas: intensive care and anesthesia. She studied at the Universidad Central de Venezuela (for anesthesia) and the Centro Médico de Caracas (for intensive care).
Prior to starting her private practice in the '90s, Dr. Lima worked at major hospitals within Venezuela, where she's lived for most of her life.
Throughout her years of practice, Dr. Lima discovered her passion for working with patients who have cancer and cardiovascular disease, as well as, those with diabetes to find a diet that works for them.
From 2007 to 2012, Dr. Lima was also a Fellow to the American Academy of Anti Aging Medicine (A4M).
You can visit Dr. Maru's blog, where you'll find her 100-page e-book, What your doctor doesn't know about blood sugar, available in Spanish.
Dr. Lima authored this book, which is available for free, as a guide for patients with diabetes and prediabetes to understand food's effect over blood glucose.
Find Dr. Lima on LinkedIn, or for more information on her medical review work at Diet Doctor, you can reach Dr. Lima at maru@dietdoctor.com.
Potential conflicts of interest
Maria E. Lima de Sa has a freelance contract agreement with DietDoctor.com to writing articles; editing and reviewing written content; customer question and answer sessions. Like every coworker, she also gets the option to become a co-owner in the Diet Doctor company.
Dr. Lima receives money from her work as an MD in her private practice mainly in Venezuela, a consulting service that provides online and in-person medical & nutrition coaching for people with diabetes or other chronic conditions that may benefit from carbohydrate restriction.
More