Why are Asian people eating rice thin?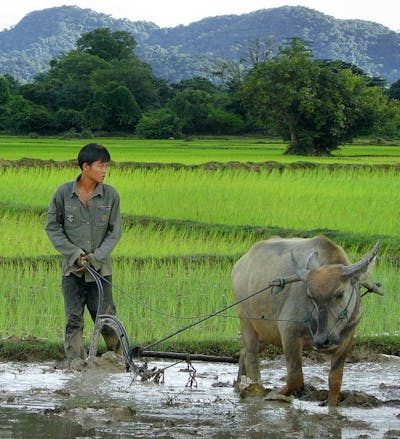 It's a common question. If carbs can make you fat, why were some populations (e.g. Japanese people) thin while eating a high carb diet?
Dr. Peter Attia has written a nice post on this: The Eating Academy: How do some cultures stay lean while still consuming high amounts of carbohydrates?
I basically agree with his ideas, although I think there are a few more answers to this question: 
The three big reasons
Here are the main reasons why I think populations could stay thin on high carb diets:
Low to insignificant consumption of refined sugar (fructose). This may stop insulin resistance from developing.
Traditionally they used to eat mainly unrefined starch (e.g. brown rice, root vegetables) that is slow to digest, due to high fiber content etc.
Traditionally more physical activity then sedentary western population. Compare a Japanese rice farmer (in the field all day) to an American office worker with a car. If you burn more glucose (via physical activity) then less insulin is needed when you eat carbs.
If you avoid sugar (fructose) and refined high GI starch and stay physically active you can probably stay thin and healthy on a high percentage of carbs. Lots of populations have done so.
Addition:
Some people have rightly pointed out that Asian populations no longer eat brown unrefined rice, they now eat white rice. True. It's also true that these populations are no longer thin and healthy – India and China now experience two of the worst type 2 diabetes epidemics in the world, even worse than in the US.1 This disease is connected to weight issues, particularly abdominal obesity.
Even using BMI (an imperfect measure, see below) the number of obese people in China have already surpassed the US. So what I'm discussing in this post is how these populations used to stay thin and healthy, because unfortunately they no longer are.
When did this problem (obesity + diabetes) start to accelerate in Asia? About at the same time as sugar and white rice was added to their diet.
Three more factors
There are three more minor factors that may have contributed to these populations staying thin, in past times:
Poverty: These traditionally thin populations were on average fairly poor by todays standards, meaning perhaps they could not always afford all the food they would like to eat.
Food reward/addiction. This may be controversial, but I think there is a point to all this food reward talk that's been going on in the blogosphere. Our processed junk food and candy is carefully designed to artificially make it taste great and be addictive. It also contains a lot of sugar and starch. It's like cigarettes: The nicotine makes people addicted, thus they smoke a lot and the smoke gives them cancer. Fast food and candy are also addictive, thus people eat more of it and the sugar/starch overdose makes them fat.
Genetic makeup. On average, Asians do not look like an average Caucasians or Africans. They have (on average) less musculature and a thinner build. This means that comparisons between the weight of Americans / Europeans and Asians using BMI is misleading, it exaggerates the difference. Asians can sometimes get "skinny fat" or even get diabetes at BMI levels that are considered normal for Caucasians (e.g BMI 24).
What do you say?
What do you think about this common question and the possible explanations?