The keto challenge: "We are both feeling happy and energetic!"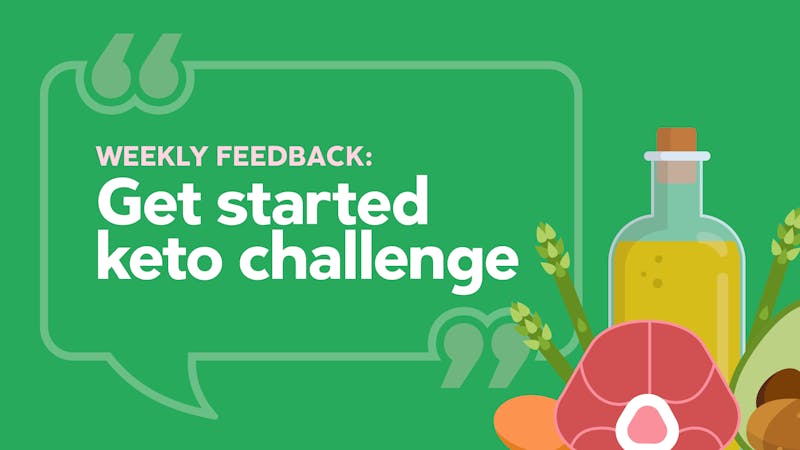 Over 805,000 people have signed up for our free two-week keto low-carb challenge. You'll get free guidance, meal plans, recipes, shopping lists and troubleshooting tips – everything you need to succeed on a keto diet.
Here are new inspirational stories from people who've taken the challenge:
Feedback
I am a 48-year-old female living in Canada.

In the last few years, I have tried many different eating lifestyles to try and reduce the weight that just seems to have snuck up on me. I do not believe in fad diets and have been looking for a way to lose some of the extra weight without affecting my family or lifestyle.

I suffer from PCOS and have some digestive problems. I was hesitant to try a keto diet but after doing some research, I gave it a try. After two weeks I had lost 6 pounds (3 kilos). The most I have ever lost in such a short time. I only need to lose 15 to 20 pounds (7-9 kilos) and I finally feel that it is possible.

I don't feel hungry and it's pretty easy for me to alter the meals to make them more kid-friendly. I haven't really felt cravings but breaking habits have been a little more difficult. It's been a real learning experience to discover all the hidden carbs I have been consuming. It has been a positive experience so far and the recipes are really good.

Whatever happens, my relationship with carbs has been altered forever.
Anne

---

Hi,

My chap and I have completed the two-week challenge and have both lost weight. He's lost 6 pounds (3 kilos) and I've lost 7 pounds (3.5 kilos).

We have enjoyed every meal we have tried and as it is so easy to follow we will be sticking to it from now on! The Diet Doctor website is invaluable with lots of information and guidance and success stories to keep you motivated!!

We also used a carb-counter app, which helped us monitor what we were eating and to make the right choices when eating out and shopping.

Neither of us has suffered keto flu, touch wood, and we are both feeling happy and energetic!

Thanks, Diet Doctor, you've changed our lives!!!
Nikki

---

Hi,

I have got to admit I was skeptical at the start when I made the decision to try the keto diet. I thought I would struggle with not eating pasta, potatoes, or crisps. However, I have been amazed, I have not wanted any of these! The food in the challenge was so good and the taste was amazing!

In the 2-week challenge, my husband and I have both lost weight and inches. I can actually see and feel my body changing shape. I am wearing clothes I couldn't fit in to!

I would recommend this eating plan to anyone, it is one of the best I have tried ever. It does not feel like a diet but a change in the way we think about food, and with fantastic results!

Regards,
Debbie MacColl, 47 years old
Glasgow, Scotland

---

Dear Diet Doctor!

Thank you so much for making this free two-week challenge available! I found it very helpful and it had revolutionised my way of eating! Prior to doing the challenge I was always hungry-due to my high-carb, high-sugar diet! I was completely overfed and totally undernourished!

It's great not to feel hungry all the time and I am delighted by the positive effects eating LCHF are giving me!

Kind regards,
Julie

---

Overall great program.

The recipes are fast, easy, and most importantly delicious. I noticed a change within the first week. My clothes fit looser and I had more energy. Will definitely continue. And Diet Doctor has been the best keto resource I've found.

Wendy, 23 years old, El Monte, CA
---
Get started today!
Sign up for instant access to a simple step-by-step guide to the keto challenge. You will also receive meal plans, recipes and shopping lists for two weeks. In case you have not received an email from us after signing up, please check your spam folder too!
Already signed up? Click here.
---
Success stories
Share your story
Do you have a success story you want to share on this blog? Send it (photos appreciated) to frida@dietdoctor.com, and please let me know if it's OK to publish your photo and name or if you'd rather remain anonymous. It would also be greatly appreciated if you shared what you eat in a typical day, whether you fast etc. More information:
Share your story!
Support
Do you want to support Diet Doctor and get access to bonus material? Check out our membership.
Join free for a month
Success stories
Low-carb basics
Weight loss advice