The keto challenge: "It made the first two weeks SO EASY"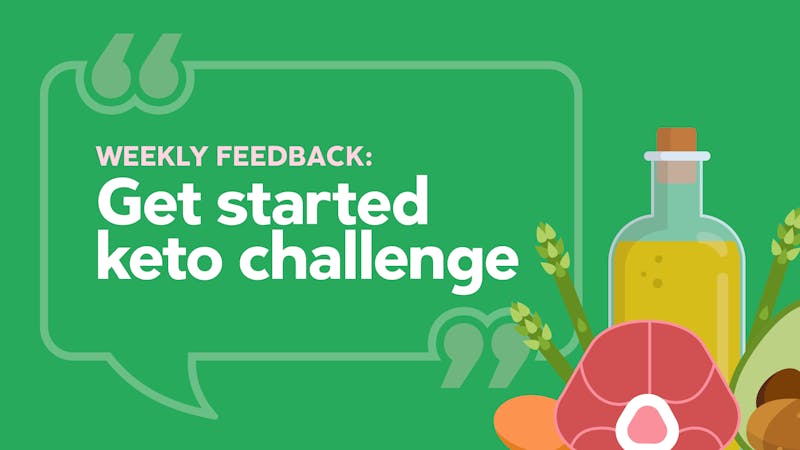 Over 900,000 people have signed up for our free two-week keto low-carb challenge. You'll get free guidance, meal plans, recipes, shopping lists and troubleshooting tips – everything you need to succeed on a keto diet.
Here are new inspirational stories from people who have taken the challenge:
Feedback
I enjoyed the challenge.

Plus points:

I lost 8 lbs (4 kg) over the two weeks.
I liked the recipes.
I found the daily suggestions useful.

Minor niggles:

A lot of the meal plans had an American slant – pizza and burgers.

Overall great.

Rachel

---

I loved it. Thought it made the first two weeks SO EASY. I have two suggestions:

Loved the daily emails. Maybe tell people (more obviously) in each email what the macros are if they eat according to plan for the day. I am not really tracking macros, but I'd like to know roughly so I learn.

I had a really hard time finding the challenge and menu plan in the app. So I kept having to go back to my emails to find the day's recipes. I'm pretty tech-savvy, so I'm guessing I'm not the only one. That was a little frustrating.

I loved the food and the shopping lists and the daily emails. Well done!

Liz

---

My 2-week keto challenge went pretty smoothly and I've lost about 10 lbs (5 kg)! Although the first few days were a little tough, once I got the hang of it, it was pretty simple.

Your website provided a lot of valuable information for me, which was so easy to understand. I will be continuing on with my keto lifestyle and am looking forward to learning and losing a bit more! 😊

Thank you,
Julie

---

I think the diet is going really well, I was 94 kg (207 lbs) before I started it. Now I am 86.8 kg (191 lbs) although I've been training very hard with 30 min hiit training and 30 min of weights with only two days off.

I would recommend it to anybody that wants to lose weight.

I did have a little bit of a problem when I cut out all my sugars, light headed and was not feeling well at all, but I fixed the problem with a teaspoon of sugar and since then have been doing very well.

Jainesh

---

I loved the challenge! I am a female and my age is 58! Loved having the menu and shopping list! It made it so easy! The food we cooked was amazing! We really enjoyed it! My husband also liked it! We cooked together! He is 68 and lost 10 lbs (5 kg) and I lost 7 lbs (3 kg)! This was our first two weeks on keto and Diet Doctor and we were never hungry, the food was awesome, it was fun, and so easy! We will continue! Now onto the 5-week challenge!

Linda
Success stories
Share your story
Do you have a success story you want to share on this blog? Send it (photos appreciated) to frida@dietdoctor.com, and please let me know if it's OK to publish your photo and name or if you'd rather remain anonymous. It would also be greatly appreciated if you shared what you eat in a typical day, whether you fast etc. More information:
Share your story!
Support
Do you want to support Diet Doctor and get access to bonus material? Check out our membership.
Join free for a month
Success stories
Low-carb basics
Weight loss advice