The keto challenge: "I feel great and I am definitely going to stick to it"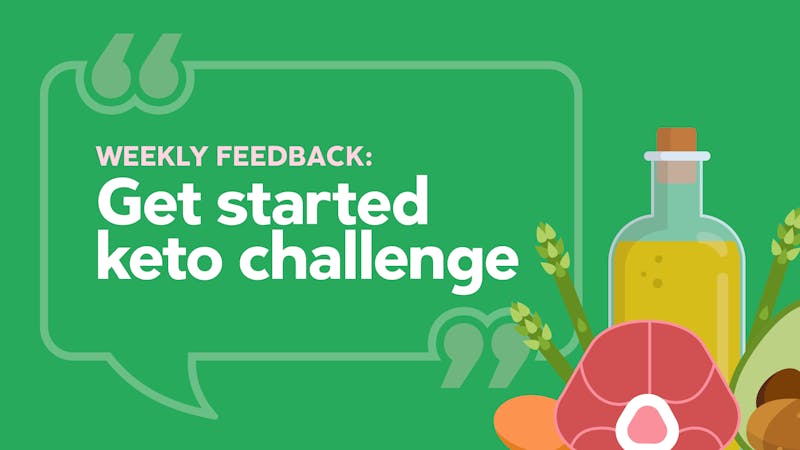 Over 860,000 people have signed up for our free two-week keto low-carb challenge. You'll get free guidance, meal plans, recipes, shopping lists and troubleshooting tips – everything you need to succeed on a keto diet.
Here are new inspirational stories from people who've taken the challenge:
Feedback
For many years I have tried every single diet out there, I lose a few pounds then put it straight back on. So I thought I would give the keto diet a try. I was a bit sceptical as my brain has been taught not to eat fat, but after a few days my appetite decreased, within the first week I lost 5 pounds – I couldn't believe it.

I'm now on week 3 and have so far lost nearly 9 pounds (4 kilos), still another stone (6 kg) to go. I used to suffer with headaches, I can honestly say I have not had one, I find myself not reaching for a coffee at 3pm each day as I am no longer tired. The only thing I have found is that my eczema has become worse, but that may be just a change in diet. I did have a cheat day and ate some noodles, I wish I hadn't, as I experienced terrible stomach ache. I'm not doing that again.

I feel great and I am definitely going to stick to it. Thank you, Diet Doctor.

Sarah


---

My name is Nancy, I'm 58 years old and live in Texas. The keto challenge was fantastic for me! I am continuing with the many incredible recipes available on the Diet Doctor site. I shed 11 lbs (5 kg) during the 2-week challenge, and looking forward to the loss of many more! No hunger whatsoever and I'm eating twice a day. I'm loving this lifestyle!

---

Did the two-week challenge and was amazed at the results. I lost 7 lbs in that two week period. This is my kind of eating. I didn't miss the sweets or the bread. I have been off of bread for a while now, only eating it occasionally in the past. I felt none of the side effects because I followed the lots of water and salt suggestion. I will continue to eat this way.

Having to only cook once a day and not thinking about preparing lunch and dinner is so simple. Thank you for making this transition so easy. I have finally found a diet I can stick to. Also want to say I used to get a lot of heartburn after eating, have not had any since starting the Keto diet.

Margo

---

I am 59 years old, an English woman living in France. I put on weight last year as a side effect of some medication (Tamoxifen, for breast cancer). I've since tried several other diets to shift it, but nothing has had any effect except for keto. While I didn't have a huge amount to lose, it was proving to be very stubborn.

I heard about keto from some Facebook friends, one of whom follows the keto way of eating as she looks after her diabetic grand daughter – she lost over 50 lbs (22 kg), which was a surprise to her as she wasn't even dieting! Another friend is using it to lose weight, she shares photos of some of her meals, which all look delicious. She has lost 10 (5 kg) and dropped a dress size in just a few weeks.

Well, I thought – what have I got to lose? Except the weight? When I came across the two-week challenge from the Diet Doctor it seemed it was meant to be…

I must be honest and say I haven't followed the plan exactly to the letter, but I have eaten keto most days. I've used some of the recipes on the website in place of the ones included in the plan. Everything has been really good, tasty, easy to cook, uncomplicated, and using ingredients I already had in the house. One of the best things for me is I can still have a glass of white wine!!

I've found that often I'm simply just not hungry, so I've skipped my evening meal. I like this feeling of not being stuffed all the time! I love feeling in control of my appetite, instead of feeling my appetite is in control of me. The game changer was reading a piece about intermittent fasting for ladies over 40, and realising it's ok to fast, and it's ok to feel hungry sometimes, nothing awful is going to happen if I miss a meal. Thank you from the bottom of my heart for that Diet Doctor!

So far I have lost 7 kg, around 15 lbs, and I'm down to my goal weight. I feel I have a few wobbly bits still hanging around, so I will continue to eat keto for the foreseeable future. In fact even so soon after staring I just can't imagine eating any other way. If I see pictures of deserts or carb heavy foods, I think "yuck"

Thank you, Diet Doctor, you've really helped me take control back.

Sarah
---
Get started today!
Sign up for instant access to a simple step-by-step guide to the keto challenge. You will also receive meal plans, recipes and shopping lists for two weeks. In case you have not received an email from us after signing up, please check your spam folder too!
Already signed up? Click here.
---
Success stories
Share your story
Do you have a success story you want to share on this blog? Send it (photos appreciated) to frida@dietdoctor.com, and please let me know if it's OK to publish your photo and name or if you'd rather remain anonymous. It would also be greatly appreciated if you shared what you eat in a typical day, whether you fast etc. More information:
Share your story!
Support
Do you want to support Diet Doctor and get access to bonus material? Check out our membership.
Join free for a month
Success stories
Low-carb basics
Weight loss advice