The keto challenge: "Filling, deliciously full of flavor and successful"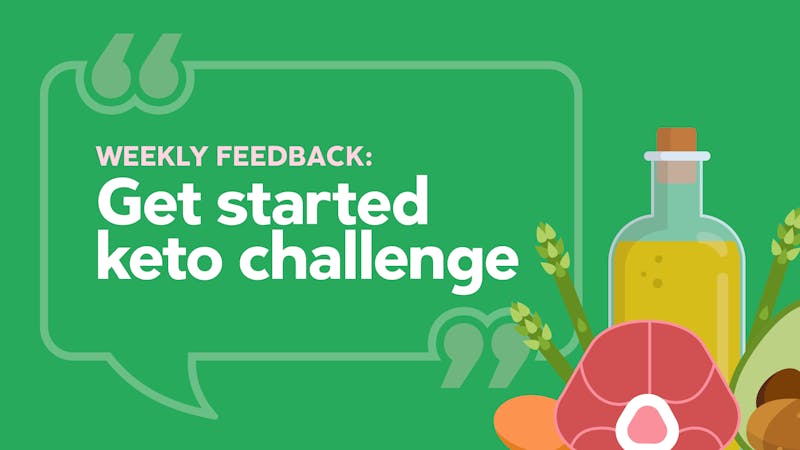 Over 885,000 people have signed up for our free two-week keto low-carb challenge. You'll get free guidance, meal plans, recipes, shopping lists and troubleshooting tips – everything you need to succeed on a keto diet.
Here are new inspirational stories from people who have taken the challenge:
Feedback
Hello,

My husband and I decided to start keto together. We plan, shop and cook together. This is new for us. We both found the two-week challenge to be filling, deliciously full of flavor and successful. Between the two of us we ate ourselves out of 25+ pounds (11 kg). We feel better with more energy. This is huge for us.

Thank you for openly sharing the keto info with all the support you offer. We are now looking forward to more discoveries about food and ourselves.

Teresa

---

I'm very thankful I found this! In just over two weeks, I have lost 13 pounds (6 kg). I am more energetic and my carb cravings are very, very diminished.

Penny

---

My husband and I, ages 68 and 66, live in Virginia. We are very pleased with the results of the keto challenge and are continuing to guide our new lifestyle with a low-carb, increased fat, "no" sugar framework, along with increased daily walking, biking, and yes, even modified yoga!

Self-care is becoming a vital part of our senior years and we feel so much better already! I'm down eight pounds (4 kg) and my husband lost six pounds (3 kg). We are about to embark on a month-long dream vacation and are pleased that we have a keto foundation in place to help us with food choices as we travel. Thank you, Diet Doctor, for your part in making the keto challenge accessible and successful for us!

Lisa

---

Hello, I'm 59 years old. I'm from New Zealand.

I have lost in 3 weeks about 3-4 kilos (6-8 lbs). I know people who do keto and tried keto last year. This time I'm trying to keep below 20 grams carbs per day. Some recipes are too rich, and I'm missing some fruit to eat on keto. But generally the food is tasty and most the time filling.

Thanks,
Shirley

---

I was very surprised with the 2-week challenge. Not only did I lose weight but also I could go longer without eating and was sleeping better.

Patricia
---
Get started today!
Sign up for instant access to a simple step-by-step guide to the keto challenge. You will also receive meal plans, recipes and shopping lists for two weeks. In case you have not received an email from us after signing up, please check your spam folder too!
Already signed up? Click here.
---
Success stories
Share your story
Do you have a success story you want to share on this blog? Send it (photos appreciated) to frida@dietdoctor.com, and please let me know if it's OK to publish your photo and name or if you'd rather remain anonymous. It would also be greatly appreciated if you shared what you eat in a typical day, whether you fast etc. More information:
Share your story!
Support
Do you want to support Diet Doctor and get access to bonus material? Check out our membership.
Join free for a month
Success stories
Low-carb basics
Weight loss advice