Extra D-vitamin viktigt för gravida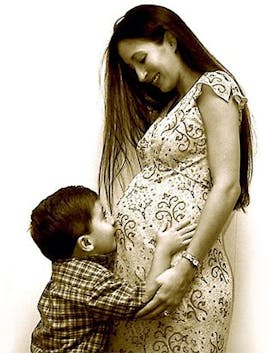 Allt mer forskning stöder vikten för hälsan av att undvika D-vitaminbrist, särskilt i vårt solfattiga land.
Tillskott har redan visats statistiskt sett ge mindre cancer, bättre humör och längre liv. En studie från i september i år antyder att det även kan underlätta viktnedgång och blodsockerkontroll, via förbättrad insulinkänslighet.
Nu visar en stor studie att tillskott av 4000 E dagligen till gravida var fullständigt säkert, och gav en halverad risk för komplikationer (som för tidig födsel och infektioner) jämfört med den föråldrade pyttedosen 400 E.
Ur Vitamin D Councils senaste nyhetsbrev
The Vitamin D Newsletter
More Vitamin D Studies of Interest
December 3, 2009.

This is a periodic newsletter from the Vitamin D Council, a non-profit trying to end the epidemic of vitamin D deficiency. If you want to unsubscribe, go to the end of this newsletter. If you are not subscribed, you can do so on the Vitamin D Council's website.
This newsletter may be reproduced as long as you properly and prominently attribute it source. Please reproduce it, post it on Internet sites, and forward it to your friends.

Five million dollar randomized controlled trial sponsored by Thrasher Research Fund and NIH

Scientists around the world presented their work at the recent Vitamin D conference in Brugge, Belgium. Many, but not all, of the scientists opined that we have to wait for randomized controlled trials (RCT) before recommending Vitamin D. In a future newsletter, I will review many of these presentations.

However, one was extraordinary. Professor Bruce Hollis presented findings from his and Carol Wagner's five million dollar Thrasher Research Fund and NIH sponsored randomized controlled trials of about 500 pregnant women. Bruce and Carol's discoveries are vital for every pregnant woman. Their studies had three arms: 400, 2,000, and 4,000 IU/day.

4,000 IU/day during pregnancy was safe (not a single adverse event) but only resulted in a mean Vitamin D blood level of 27 ng/ml in the newborn infants, indicating to me that 4,000 IU per day during pregnancy is not enough.
During pregnancy, 25(OH)D (Vitamin D) levels had a direct influence on activated Vitamin D levels in the mother's blood, with a minimum Vitamin D level of 40 ng/ml needed for mothers to obtain maximum activated vitamin D levels. (As most pregnant women have Vitamin D levels less than 40 ng/ml, this implies most pregnant women suffer from chronic substrate starvation and cannot make as much activated Vitamin D as their placenta wants to make.)
Complications of pregnancy, such as preterm labor, preterm birth, and infection were lowest in women taking 4,000 IU/day, Women taking 2,000 IU per day had more infections than women taking 4,000 IU/day. Women taking 400 IU/day, as exists in prenatal vitamins, had double the pregnancy complications of the women taking 4,000 IU/day.

What does this huge randomized controlled trial mean?

We have long known that blood levels of activated Vitamin D usually rise during very early pregnancy, and some of it crosses the placenta to bathe the fetus, especially the developing fetal brain, in activated vitamin D, before the fetus can make its own. However, we have never known why some pregnant women have much higher activated Vitamin D levels than other women. Now we know; many, in fact most, pregnant women just don't have enough substrate, the 25(OH)D building block, to make all the activated Vitamin D that their placenta wants to make.

Of course fetal tissues, at some time in their development, acquire the ability to make and regulate their own activated Vitamin D. However, mom's activated Vitamin D goes up very quickly after conception and supplies it to baby, during that critical window when fetal development is occurring but the baby has yet to acquire the metabolic machinery needed to make its own activated Vitamin D.

The other possibility, that this is too much activated Vitamin D for pregnancy, cannot stand careful scrutiny. First, the amount of activated vitamin D made during pregnancy does not rise after the mother's 25(OH)D reaches a mean of 40 ng/ml, so the metabolism is controlled. Second, levels above 40 ng/ml are natural, routinely obtained by mothers only a few short decades ago, such as President Barack Obama's mom probably did, before the sun scare. (President Obama was born in Hawaii in late August before the sun-scare to a mother with little melanin in her skin) Third, higher blood levels of Vitamin D during pregnancy reduce risk of infection and other pregnancy complications, the opposite may be expected if 25(OH)D levels above 40 ng/ml constituted harm.

It is heartening to see the Thrasher Research Fund and NIH support such a large randomized controlled trial. In fact the Thrasher Research Fund has already funded a three year follow up and the NIH request for a follow up grant is pending. Nevertheless, a large number of medical scientists keep saying, "We need even more science before recommending Vitamin D." What are they really saying?

First they said we need randomized controlled trials (RCT) before we do anything. Well here is a big one. Then they say, as they did in Brugge, "We don't believe this RCT, we need more money for more RCTs." If you think about it, they are saying pregnant women should remain Vitamin D deficient until scientists get all the money for all the RCTs they want, which may take another ten years. How many children will be forever damaged in that ten years?

…
D-vitamin och hälsa
Allt mer stöd för vikten av D-vitamin för hälsan alltså, och allt mer stöd för att tillskott vid solbrist är ofarligt. För gravida verkar det dubbelt så viktigt, minst, att inte ha D-vitaminbrist.
Förr eller senare lär dagens föråldrade rekommendationer höjas från 400 E till 4000 E dagligen tror jag. Eller åtminstone 2000 E.
Frågan är: hur många hinner bli sjuka av för lite D-vitamin innan dess?
Mer
Mer om D-vitamin och autism – ett av de bästa skälen för att undvika brist hos gravida och barn.