Public Health Collaboration 2018 conference in London: Ivor Cummins reports
On the weekend of 19-20th May, a small Diet Doctor team of three were present at the Public Health Collaboration conference in London. We had a truly fantastic time there. I had the honor not only of meeting but of interviewing Prof. Tim Noakes (quite a surreal experience!), among other fantastic speakers and experts who attended the conference.
It was also great to meet some Diet Doctor readers in person and hear about their personal success stories. The thing I love most about these conferences is the opportunity to meet our members and collaborators in person and see and hear first-hand the impact that team Diet Doctor is having on people's lives when we come to the office here in Stockholm each day!
One of the most memorable characters of the low carb movement is Ivor Cummins. His sharp and intuitive engineer's intellect combined with his snappy sense of humor and love of a good joke make him truly interesting, fun and inspiring to be around. My colleagues and I did not see much of the actual conference as we were busy with interviews throughout both days. So, we asked Ivor to put together a travel report to describe what happened at the conference and how it felt to be there! Enjoy!
Ivor Cummins' conference report
If you are you interested in keto or low carb, you may have missed out on a superb conference in London on 19-20th of May 2018. It was the third annual Public Health Collaboration UK event, and it is going from strength to strength! Massive Kudos to Sam Feltham, who has pulled off yet another stellar event. Happily, all the talks and activity will be available soon on the PHCUK Youtube channel.

All talks were delivered in the August lecture hall of the Royal College of General Practitioners (RGGP) – and such excellent talks they were, too! Flying back from Prague to catch the second day of the conference, I arrived just in time to see Dr. Aseem Malhotra's impassioned delivery. He blasted out the major issues in nutritional and medical science, finishing up with huge and sustained applause.

Following this was an extraordinary presentation by none other than Professor Tim Noakes. He covered the mounting and compelling evidence for LCHF and ketogenic diets in diabetes treatment. He said that people "don't die from diabetes", they "die from its management". He also covered extraordinary details from the show-trial he was subjected to by the Health Professions Council of South Africa (HPCSA) – a truly shocking story of collusion and persecution, where the whole debacle was essentially a "set up" from the very start.

His talk was followed by a sustained and enthusiastic standing ovation – with many in the room becoming quite emotional. And the emotion is well-justified indeed. Tim has fought a Herculean battle on behalf of the whole LCHF movement; and what's more, he has won it.

Prof. Noakes' talk

Ivor with Prof. Noakes

Standing ovation

There were so many great presentations during the two days of the conference – from Dr. David Unwin through to Dr. Scott Murray, an expert in cardiology and current president of the British Association of Cardiovascular Prevention and Rehabilitation (BACPR).

Here's Scott belting out a very humorous, yet deadly serious summary of what is required to address our disease epidemics:

True leadership from the best and brightest in the medical profession was palpable everywhere. I got to catch up with many excellent LCHF practitioners, including the dynamic and outspoken Dr. Campbell Murdoch.

Campbell is a rising star in the LCHF revolution – watch out for him!

In closing, one thing is certain: the PHC organisation is rapidly becoming one of the most important influencers in the fight to have LCHF principles accepted around the world. Watch this space…!
—
Ivor Cummins
How was it for you?
Were you at the PHC London 2018 conference? What did you think? Let us know in the comments below.
More from Ivor Cummins
If you want to hear more from Ivor, you're in luck! He recently released a new book, Eat Rich, Live Long: Mastering the low-carb and keto spectrum for weight loss and longevity. It's available on Amazon.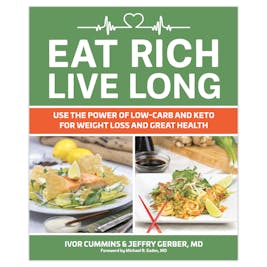 Videos with Ivor Cummins