Diabetes expert: bread is a bag of glucose!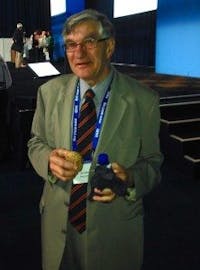 This is good news! Many low-carbers are familiar with the diet expert Jim Mann, an expert from the old school. Mann was one of the experts behind the carbohydrate-rich European dietary guidelines for diabetics in 2004. And he wrote an opinion piece in Lancet, where he dismissed the Swedish LCHF movement in 2009: "Fad diets in Sweden, of all places".
But now even Mann seems to be updating his knowledge, like many others. Dr. Anders Tengblad listened to his talk at the big diabetes conference EASD this week. Now Mann believes that diabetics ought to avoid pasta, potatoes, rice, cereals and bread!
He called bread "a bag of glucose"!
More over at Dr. Tengblad's blog: Jim Mann – Bread is a Bag of Glucose! (Google translated from Swedish)
Previously
Yet another internationally recognized dietary expert that updated his knowledge on fat and carbohydrates: "I Was Wrong, You Were Right"
The Food Revolution is moving forward!
More