Contest: Who will be lucky member 75,000?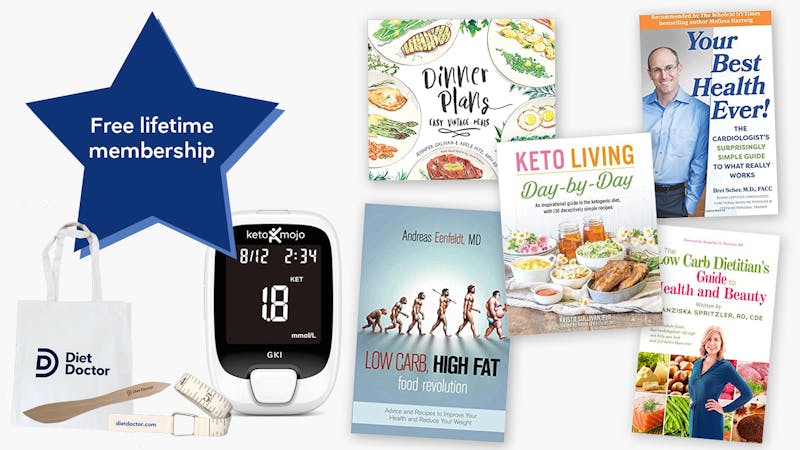 Since we are rapidly coming up on 75,000 members, we want to celebrate! If you become lucky member number 75,000, you get a prize. Already a member? You can still win, too.
No matter if you're new to Diet Doctor or have been following us for a while, right now is the time to become a DD member.
Why? Besides the fact that we're committed to helping you dramatically improve your health through a keto and low-carb lifestyle, we're also holding a contest where two members will win the ultimate keto care package.
What's included in the ultimate keto care package?
1. A VIP membership
Both winners of this contest will get a FREE VIP lifetime membership that lasts forever.

2. Five keto books from our experts
3. Keto Mojo bluetooth ketone and glucose meter — basic starter kit
Having your very own handy ketone and glucose meter by Keto Mojo will take the guesswork out of your journey with ketosis. With this Bluetooth-enabled meter, you can monitor your ketosis levels with precision and check all of your results directly on your smartphone.

4. Diet Doctor merchandise
A Diet Doctor-branded tape measurer, tote bag, and butter knife — not available anywhere else!

Two chances to win
Are you already a member and want a chance to win? Don't worry, we've got you covered. To be fair to our existing members, we're giving out TWO complete packages with the items listed above. One for member number 75,000, one for a randomly chosen member (to be selected one week from now on Thursday, June 4).
This means that if you sign up right away, you have not one, but two, chances to win!
Membership is free to sign up for and the entire first month is free. If you cancel within 30 days you pay nothing. There's no commitment, you can cancel online from your account page at any time.
Membership gives you instant access to our amazing 150+ low-carb and keto meal plans, our meal planner tool, 900+ low-carb recipes, 500+ low-carb videos including courses, movies, interviews etc., 24/7 community support, keto and weight-loss programs and more.
From the second month – should you choose to stay a member – the price is $9.99 a month (or $99 for annual subscription) and every dollar goes to support the Diet Doctor organization. Our purpose is empowering people everywhere to revolutionize their health.
Trying our membership for free is enough to enter the competition. We'll hit member number 75,000 very soon. Will it be you?
Sign up for a free trial and get a chance to win