What's the worst thing about Diet Doctor?
What's the worst thing about Diet Doctor? We asked our members and got 369 replies (way fewer than usual). Here are the results: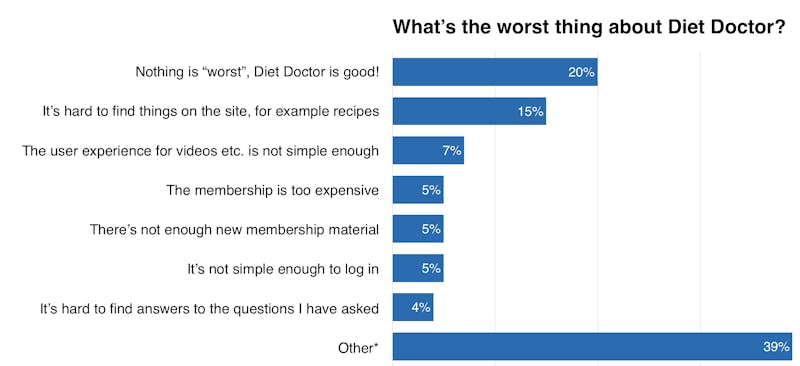 Please note: When we ask member questions we normally use multiple choice. However, this question was free text only. To represent the answers in a simple manner we have categorized them. This categorization is not perfect.
* The "Other" category is significant and includes answers such as "No forum or other social functionality", "Some rude and biased communication reduces trust", "Improve the get started challenge with more meal plans etc." and more.
We Are Far From Perfect
It's nice to hear that 20% of our members feel "nothing is worst" about Diet Doctor. Thank you.
But, most members think we can do better. Sure we can – we're just getting started. Making low carb simple will take years, but we're going to do it – on step at the time.
Some comments:
It's hard to find things on the site, for example recipes
We agree. After this survey went out we have made two main improvements:
1. Added a large "Low-Carb Recipes" picture on the front page.
2. Added advanced recipe search:

More is required to simplify navigation. We're adding video search and we will improve search at DietDoctor.com in general. We're also discussing how to best structure everything on the site in smarter ways in the future.
The user experience for videos etc. is not simple enough
Again, we agree. Our goal is to create a video experience as great as that of Netflix (or better). We're not at all there yet, but we'll be adding video search (extremely soon), "Add video to my favourites", "Videos I have watched", "Watch video later" and other nice things soon.
The membership is too expensive
Is it? For some, yes, $9 a month can be too much – especially if you're from a poor country on a low salary or if you've lost your job. We'll probably add lower prices for low-income countries in the future.
However, for most people in western countries we feel the price is fair. And, eating low carb will likely save you money. Not a bad investment. Also, it's always possible to just use the free one month trial.
We have no plans to change the price of the membership but we will be adding more products all the time and vastly improving what's already there.
There's not enough new membership material
Currently we publish two new videos a week and there are now more than 140 videos on the membership site – all in super high quality. As soon as we're able to we'll add even more new videos, faster.
But, video production and editing is expensive, and we think spending resources on additional ways of making low carb simple is also a very good idea. Later this year we aim to add a new product to the membership – we think you'll find it exciting!
Earlier surveys
How Would You Like to Contribute?
What One Word Best Describes DietDoctor.com?
What's Your Main Issue on Low Carb?
What Four Low-Carb Experts Should We Interview Next?
How Can We Make The Membership Insanely Great?
What Do You Want Us to Write About Next?
What Do You Want Us to Do Next?
Would You Recommend the Diet Doctor Membership to a Friend?
What's The Key Benefit of Being a Diet Doctor Member?
For How Long Have You Eaten Low Carb
The Biggest Challenges On Low Carb
Would You Recommend Eating Low Carb?
How Often Do Low Carbers Cook?
How Often Do Low Carbers Eat Non-Low-Carb Foods?
The Biggest Fears on Low Carb – and the Solutions