What's the best thing about Diet Doctor?
What's the best thing about Diet Doctor? We asked our members and this is what people replied: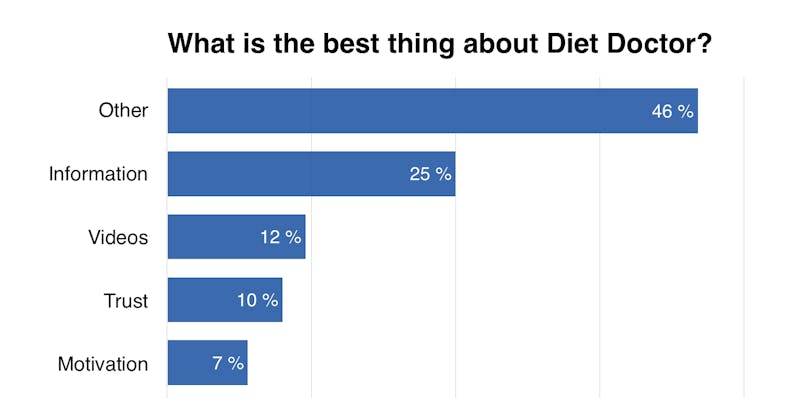 As you can see, the top four things that people like the most are:
Information
Videos
Trust and
Motivation
Here's what we offer to get you these things:
1. Information
Two things, mainly, provide the trustworthy information that many people search for – our guides and our videos:
The guides take you through all the basics of diverse topics such as low carb, diabetes, intermittent fasting and ketosis.
The videos provide information from some of the leading physicians, researchers and people that have been very successful on low carb.
Here are our most popular videos right now:
2. Videos
Our videos cover almost every topic related to low carb, ranging from what you should do if you reach a plateau, whether you can be a successful athlete and simultaneously burn fat, and if there are certain circumstances when you might not want to eat low carb.
Below are our latest videos addressing a wide range of topics:
3. Trust
We take no money from the industry, we have no ads, no food or supplement sales and we're 100% funded by the people. Everything in order to give you advice that you can trust.
You can become a member here (optional) if you want to support our mission that you can read more about here.
4. Motivation
Getting started and continuing on your low-carb journey requires a lot of determination – and a way to get that is by reading about or watching our amazing success stories.
By doing so, you feel that you are not alone if you have any struggles and you get tips from people that have already reached their low-carb goals.
Here are some of our success stories that people have sent in:
And here are our top video success stories:
What do you think is the best thing about Diet Doctor? Please comment in the section below.
Try the membership
Do you want more help with making low carb simple? Diet Doctor is free of ads, products for sale, and sponsorships. Instead, we're 100% funded by the people through our optional membership.
Do you want to get access to our meal planner service, check out our 190+ low-carb TV videos and ask our experts your questions? Join free for a month.
Meal plans
With a membership you also get lots of weekly low-carb meal plans (over 25 so far), complete with shopping lists and everything, with our premium meal planner tool (free trial).
DD+ MEMBERSHIP
Most popular videos