What could you learn in five weeks?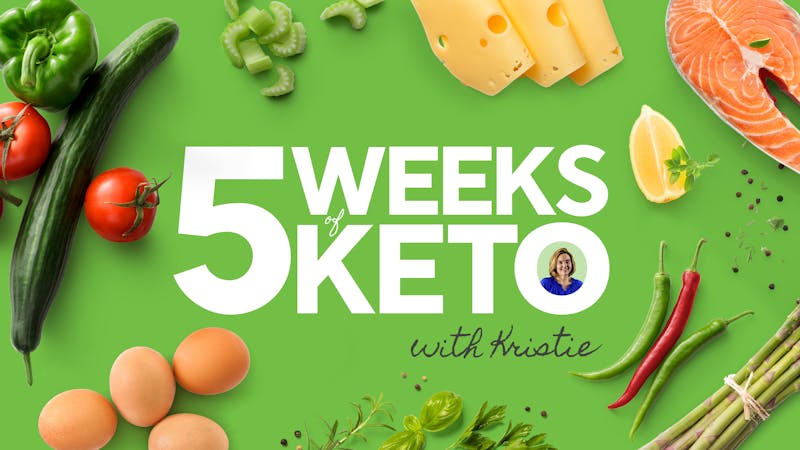 The reviews are in: 5 Weeks of Keto with Kristie is a hit! Our program, available exclusively for Diet Doctor members, is already changing lives. Here's what one participant had to say:
I could tell it was working when my near constant hunger disappeared. I've been able to easily refuse sweets, and I have spontaneously skipped meals.
She goes on to describe her new superpower: being able to trust her own hunger signals;
I can now feel when I am full. It takes very little food to satisfy me.
Are you looking to make a change? Emails and comments are flooding in from Diet Doctor members who are finally losing weight with less hunger:
Diet Doctor and Kristie Sullivan provide lots of information that will fortify your resolve to change your eating habits! I had a few months of low carb under my belt before I moved on to keto. That, combined with weeks 1-4, made me confident about spending my week 5 on a cruise. I had no temptation during that week because of everything I learned, and also because I don't want to fall back into the disastrous way of eating I was engaged in before. Trust what you learn over these weeks and love yourself enough to hang in with it. If I can do this, it's possible for you too!
What do they love about the program?
Receiving daily emails that remind them "I'm not alone!"
I love getting my daily email from Kristie every day. Makes it feel so much more personal. Like Kristie is talking to me.
I'm so sad my 5 weeks with Kristie is over. I really enjoyed the emails and got a lot out of the program. The program turned out to be THE thing that kept me going through the first weeks of my keto journey. I wouldn't still be here otherwise, and now I can't imagine living any other way.
Enjoying delicious foods in the meal plan
I'm finding the meals really satisfying, and I'm not looking for snacks in between at all.
Love having the meal plan, recipes and shopping list! The food is amazingly good!
Making progress (finally)!
I am down 20 lbs (9 kg); my blood sugars went from 160-170 mg/dl (8.8-9.4 mmol/L) down to 105-115 mg/dl (5.8-6.4 mmol/L) (and I have reduced my Metformin from 850 mg twice a day to 500, and hope to get rid of that by the end of the year)!
I feel so much better, I'm not hungry, and I love the foods I am eating.
This way of eating feels good on so many levels. There's no excuse good enough to not stay the course. I have my blinders on now and I can see my future, and it's not sick and tired and fat. Thank you so much Kristie, for kicking me in the pants and reminding what the big picture looks like! Life has enough struggles, my health doesn't have to be one of them.
Learning more about keto and low carb, even when they aren't 'new' to the concept
My weight loss has been amazing again! More like it was in the beginning. I am 17 months into keto so it is quite a thing. I am down 6 lbs (3 kg) so far.
This 5-week program walked me through making menu plans, and dealing with all the real life obstructions that a person has to negotiate while learning this new way of life. I have been a Diet Doctor member for over a year, but this is the first time I truly achieved my keto carb goals.
Understanding their personal hunger cues, often for the first time ever!
I'm finding I am not hungry, and I'm learning to feel the difference between brain hunger and stomach hunger.
Trust the process and the food. I'm a stress eater and have gotten tools to support that aspect. The food is yummy and satisfying. I also am not looking for anything between meals. Finding my hunger cues again!
And finally, because we couldn't say it better ourselves, here's why you should try 5 Weeks of Keto with Kristie today:
I eat to fullness, eat when hungry which is basically what is promoted on here. Intermittent fasting happens naturally, it shouldn't be something that you 'have to' do. I'm now starting week 4 on the 5 week challenge and I've learned so much from Kristie's daily emails. Really, that is the biggest benefit of the 5 week challenge.
Learning how to make this way of eating a lifestyle and not a temporary fix. I would encourage you to do the 5-week program and learn all you can to be successful on living on keto.
---
Lose weight with less hunger today! Sign up for 5 Weeks of Keto with Kristie, right here.
Join now
---