The result of my diabetes lunch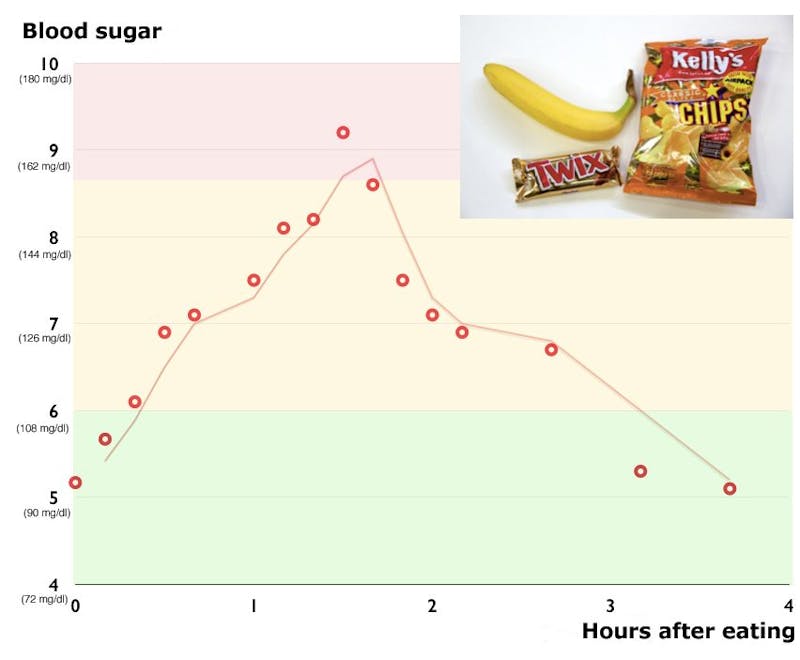 What happened when I ate the junk-food lunch at the diabetes meeting?
Above, you can see the blood-sugar graph. My blood sugar predictably shot up from all the sugar and starch. It peaked at around 160 mg/dl (9 mmol/l). The red circles above represent actual measurements, the line represents an average of two consecutive  measurements.
A normal fasting blood sugar is between 70 mg/dl and 100 mg/dl (4 and 6 mmol/l). After a meal, blood glucose should stay below 160 mg/dl (8.7 mmol/l) to be considered normal.
Fortunately I don't have diabetes, but still the blood sugar spikes to levels that usually only diabetics attain. The more often you do this, the worse it is. Or well, worse for the person who eats. But the better for those who sell diabetes medications and other diabetes-related things here at this conference.
With 15,000 participants here for an entire week, one might wonder how many will get type 2 diabetes from eating the junk that is served at the diabetes conference. Some of the participants will probably become part of the rapidly growing diabetes epidemic that feeds the entire diabetes industry.
There's potential for an even bigger conference next year.
Previously
Lunch at the Diabetes Conference
More