The real cause of obesity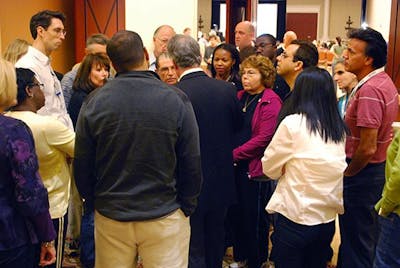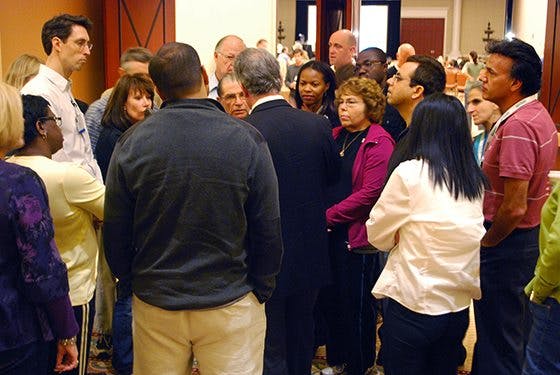 Lustig in the centre
Professor Robert Lustig had two very good lectures at the ASBP obesity conference last weekend. As you can see above, the attending doctors were very interested in talking to him and asking questions afterwards.
The topic for the talks: Why do we get fat, and how can we treat it? Professor Lustig understands the answers better than anybody else I know.
Here are some of the insights he shared in his talks: 
It's the insulin, stupid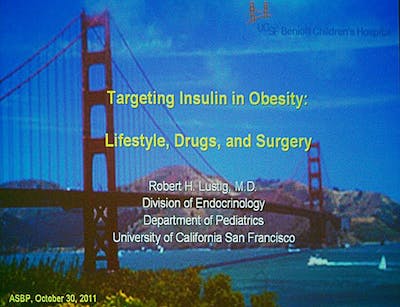 Some people still deny that insulin has anything to do with obesity. These insulin-deniers are mostly academic researchers who don't actually treat obese patients.
Most of the obesity doctors at this conference, including most speakers, were very well aware of the central role of insulin in obesity. Professor Lustig certainly agrees. He understands it better than almost anyone.
The chicken or the egg?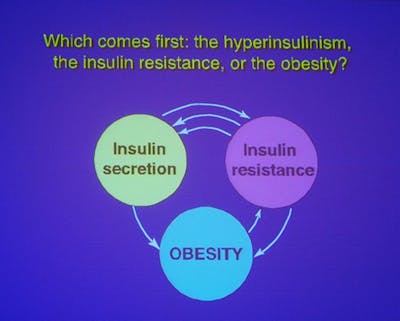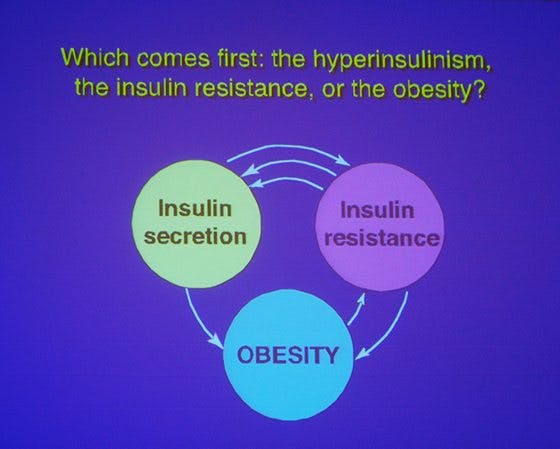 This is a very interesting question. Obese people have high insulin levels and they have insulin resistance. What comes first?
The conventional view of the flat earth people (the insulin deniers) is this:
Eating too much (gluttony, sloth) makes you fat. The fat makes you insulin resistant and that raises your insulin levels.
The low carb people, who realize that low carb makes a lot of people lose weight effortlessly, see things like this instead:
Too much carbs raises insulin (and then insulin resistance) and makes people fat.
This second view, I think, is basically true. But it's not necessarily the whole truth. I think professor Lustig has an even better explanation:
There is no chicken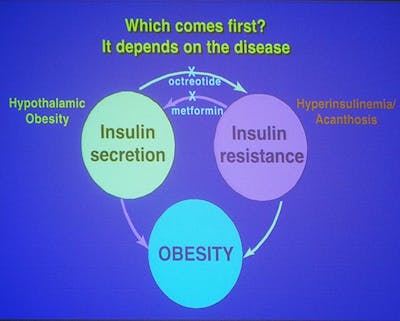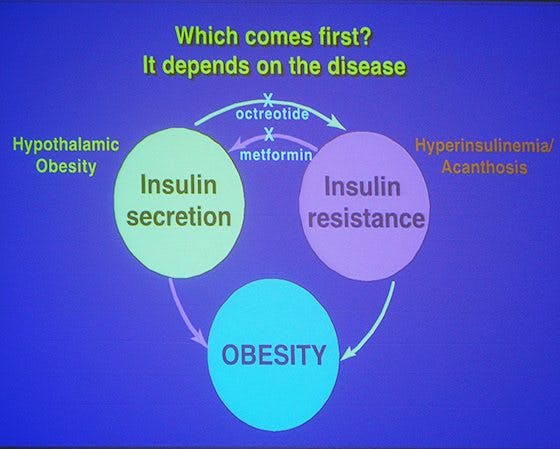 In Lustig's view there isn't one specific chicken. The problem can start anywhere:
Insulin resistance (perhaps because of too much fructose in your diet) raises the insulin and makes you gain weight.
Too much insulin (due to rare brain damage or, more conventionally, excessive carb intake) eventually makes you insulin resistance. It's basic physiology: high levels of a hormone eventually down-regulates its receptors.
Obesity (for whatever other reason) makes you insulin resistant which raises insulin levels.
The problem can start anywhere.
Leptin – the roadblock to obesity
Looking at the slide above it seems like it's easy to get fat. Why doesn't it happen to us all? The answer is the hormone leptin.
Leptin is produced by the fat cells. When we fill our fat stores leptin goes up which tells the brain that we don't need to eat more. This should normally stop us from becoming obese.
The problem is that high levels of insulin blocks the leptin signal in the brain, making obesity possible (see Lustig's recent AHS talk).
Conclusion: Target insulin
Here is the conclusions slide from Lustig's talk: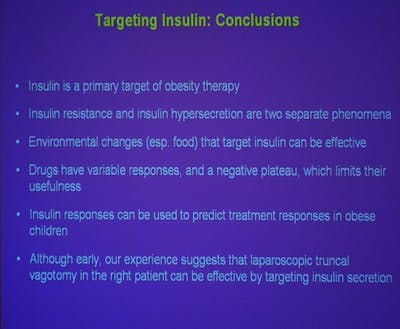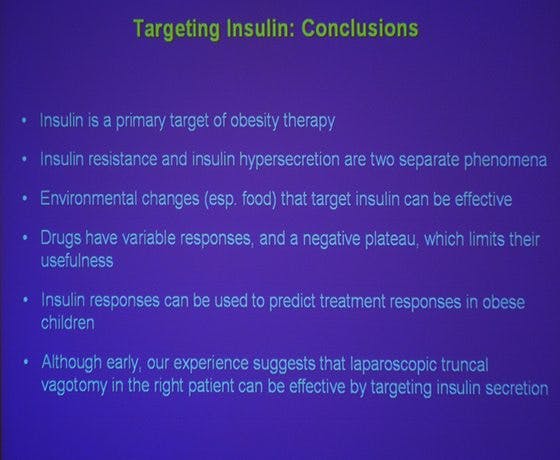 Basically: Lowering elevated insulin is an essential part of obesity treatment.
The most effective way to lower insulin? Diet change.
What kind of diet change? Here is the program from Lustig's clinic:
How to do it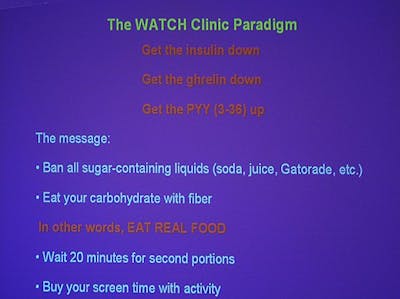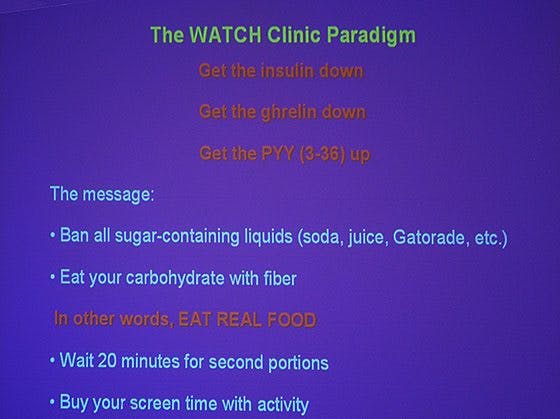 No sugar and no white non-fiber carbs (white bread, pasta etc.). And EAT REAL FOOD. I could have said it myself.
Lustig doesn't necessarily recommend an even more strict LCHF diet (very low carb). He considers that somewhat extreme. Instead he says eat slowly and exercise more.
This is all fine. I think the program above is great.
The next step
However, for a lot of people the program above is not enough to normalize the weight or other metabolic problems. For others it's too slow.
If you want an even more effective dietary program you need to be even more strict with the carbs, lowering insulin even more. Then you need LCHF. If you do that you may not necessarily need to eat slowly or exercise more. It may be effective enough anyway.
Paradigm shift: The Earth is round
The continuing epidemics of diabetes and obesity are two massive ongoing disasters. How do we stop them? Step one is to dump the failed medieval mindset that obesity is just a result of gluttony and sloth.
Obesity is usually the result of a hormonal imbalance, most commonly too much insulin (the body's main storage hormone).
When we realize this there is often a simple solution.
More
I interviewed dr Lustig at the conference and the video will soon be posted.
Obesity and the trouble with sugar
Guyenet, Taubes and why low carb works
Why Americans are obese: Nonfat yogurt