The keto diet: "Have moved on to make it a way of life"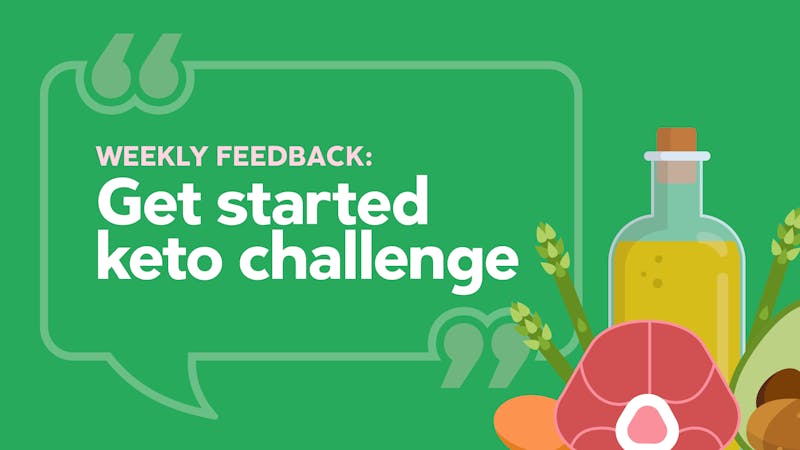 Over 890,000 people have signed up for our free two-week keto low-carb challenge. You'll get free guidance, meal plans, recipes, shopping lists and troubleshooting tips – everything you need to succeed on a keto diet.
Here are new inspirational stories from people who have taken the challenge:
Feedback
Good morning,

Let me start by introducing ourselves, my husband Thom is 56 years old and I am Line (pronounce Lyne in French), and I am soon to be 46 in two weeks. We are from Canada.

My husband and I are both doing the keto diet to improve our health and weight and we also want to look good on our upcoming cruise.😎 I find it a lot easier to be two doing this than if I were alone.

The first two weeks, my husband lost a total of 15.2 lbs (7 kg) and I lost 10.2 lbs (5 kg). I am not discouraged that he lost more weight than mI, as I know he has more weight to lose. As I am shaped like a pear, I am measuring the inches that I am losing on my waist, bust, hips, thighs and calves. I am only measuring his chest and waist.

We both feel great and more energetic.

The recipes are easy to make and very good. I wasn't one who like cooking since I never had any idea what to make for dinner. Now I got hooked on cooking thanks to these easy-to-follow recipes. We are for sure wasting a lot less food and saving money, as we don't go out to eat anymore or order out.

We also have to young kids at home (10 and 11 years old) and I often serve them the same thing as we eat with just a little modification. For example, the Italian keto meatballs with mozzarella cheese I served it with spaghetti noodles for them, which they loved.

Thank you Diet Doctor,
Line and Thom

---

Hi there,

I'm loving your website and the keto diet. I lost 8 lbs (4 kg) but most of it was the first week. I'm 51-year old female and I have about 30 lbs (14 kg) to lose. I'm from British Columbia.

For the past four days I haven't gone to the washroom… you know #2 😜Will this change soon?

Jody
---
I really enjoyed it. I lost 15 more pounds (7 kg) and have moved on to make it a way of life.

Angela

---

I absolutely loved the challenge and the results. Never had I experience such a rapid weight loss (5 kilos [11 lbs] in two weeks) but what I liked the most, was my amazing new energy! Energy I hadn't felt in years!

The menu was delicious, the shopping list super useful, and it actually inspired me to make new recipes and adaptations of the menu.

I continued the lifestyle and keep losing weight and adding benefits.

Thank you so much!
Daniela

---

Good afternoon,

I'm in week 3 of LCHF. I am a 66-year old retired female & live in Manitoba, Canada. I have been diagnosed with Non-Alcoholic Fatty Liver disease and my doctor has recommended your program to me. I'm a carb lover and evening snacker but am motivated to get rid of the fatty liver disease. I don't want to get cirrhosis of the liver! My start weight was 136 lbs (62 kg) and I am 5'3" (160 cm) tall. I'd love to lose 10-15 lbs (5-7 kg). I have noticed a decrease in my upper stomach which usually appears quite bloated.

The first week went well as I followed the two-week challenge; the second week didn't go as well because I strayed from the meal plan and recipes; my third week I've started the 5-week program with Kristie. My husband is joining me on this journey which helps tremendously. It's hard to wrap my head around the high fat content – it's so different from what I've traditionally thought.

I was disappointed & disheartened about the weight loss fluctuations – I think it would be good to emphasize the info about weight loss expectations at the beginning when people are just starting the program. I lost 1.5 lbs (0.7 kg) the first week, gained it back in the second week (from straying from the program???) and the 3rd week lost 3 lbs (1.4 kg).

I must say that the recipes are delicious! And they should be – so much fat!!! I've joined the Facebook group and read most of the posts. I must say that this program is very work intensive – maybe I've been retired too long – I go to sleep at night thinking about what I can and can't eat. I don't think I'd be able to do it on my own, so I appreciate the meal plans, shopping lists and recipes. I just have to change my life style and eating & drinking habits.

So glad the program doesn't have advertising and doesn't promote products. I won't mind paying a small monthly fee to belong to the group. Keep up the good work!

Thank you!
Colleen
---
Get started today!
Sign up for instant access to a simple step-by-step guide to the keto challenge. You will also receive meal plans, recipes and shopping lists for two weeks. In case you have not received an email from us after signing up, please check your spam folder too!
Already signed up? Click here.
---
Success stories
Share your story
Do you have a success story you want to share on this blog? Send it (photos appreciated) to frida@dietdoctor.com, and please let me know if it's OK to publish your photo and name or if you'd rather remain anonymous. It would also be greatly appreciated if you shared what you eat in a typical day, whether you fast etc. More information:
Share your story!
Support
Do you want to support Diet Doctor and get access to bonus material? Check out our membership.
Join free for a month
Success stories
Low-carb basics
Weight loss advice