"The keto challenge was brilliant"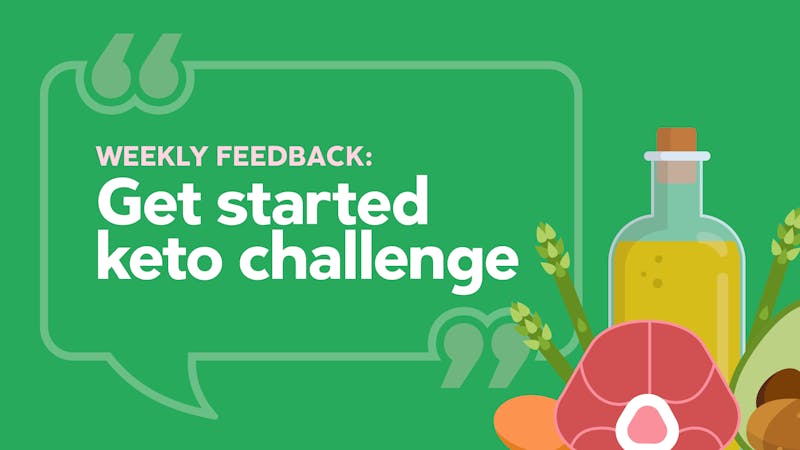 Over 850,000 people have signed up for our free two-week keto low-carb challenge. You'll get free guidance, meal plans, recipes, shopping lists and troubleshooting tips – everything you need to succeed on a keto diet.
Here are new inspirational stories from people who've taken the challenge:
Feedback
Hi,

I thought the keto challenge was brilliant.

I had actually been on keto for the previous seven weeks, five of which were in China, therefore a bit more difficult.

The recipes are delicious, easy to shop for and make planning the week's meals so easy. If I had known about Diet Doctor and the keto challenge nine weeks ago it would have made my foray into keto so much simpler and more straightforward. I would recommend it to anyone wanting to explore keto.

Thanks for this great website and the keto challenge.

Regards,
Lisa


---

This is a great challenge. It has helped me to understand metabolism and the relationship of carbs, fats and protein. I have struggled the last ten years with weight gain because of a thyroidectomy. I have always been carb resistant, so the thyroidectomy, plus my age — 71 — really put on weight. I am going to continue and become a member.

I would like to know how the fat, protein, carb percentages change after you reach your weight-loss goal.

The two free weeks have motivated me and produced a 9-pound (4-kg) loss even though I ate a few strawberries a few days. My hot flashes have finally disappeared! I feel better.

And I loved all the meals except the fish curry. It was so so. I eased on the curry as I'm very sensitive to spicy foods. I cannot eat hot peppers.

I am continuing to lose another 10-15 pounds (5-7 kg).

Thank you,
Ann

---

I am 70 years old and live in both Vermont and Florida. After reading and listening to how the diet works I used some of the recipes you provided in the challenge but also used my own because I have lots of yummy veggies available in my garden. I lost six pounds (3 kg) which is great because that's all I needed to loose. Keeping hydrated has been my biggest challenge. My son has been following the diet since February and has lost over 65 pounds (29 kg) so far. I truly believe it is saving his life! He has a 2-year old and a 5-month old. Because of this diet he will enjoy them a lot more and live to see them grow. Thank you!

Cynthia


---

I have really enjoyed the 2-week challenge! I lost 5 lbs (2 kg) in the first week but stayed the same on the second week, which I will put down to a family party (alcohol) and I think I ate a bit too much cheese and I made the mistake of thinking almonds were great so I ate too many of them… So for week three, I will be eating less of nuts and cheese. The recipes are fantastic and really tasty and more importantly filling.

Bevan
---
Get started today!
Sign up for instant access to a simple step-by-step guide to the keto challenge. You will also receive meal plans, recipes and shopping lists for two weeks. In case you have not received an email from us after signing up, please check your spam folder too!
Already signed up? Click here.
---
Success stories
Share your story
Do you have a success story you want to share on this blog? Send it (photos appreciated) to frida@dietdoctor.com, and please let me know if it's OK to publish your photo and name or if you'd rather remain anonymous. It would also be greatly appreciated if you shared what you eat in a typical day, whether you fast etc. More information:
Share your story!
Support
Do you want to support Diet Doctor and get access to bonus material? Check out our membership.
Join free for a month
Success stories
Low-carb basics
Weight loss advice