The keto challenge: "The cravings are just not there anymore!"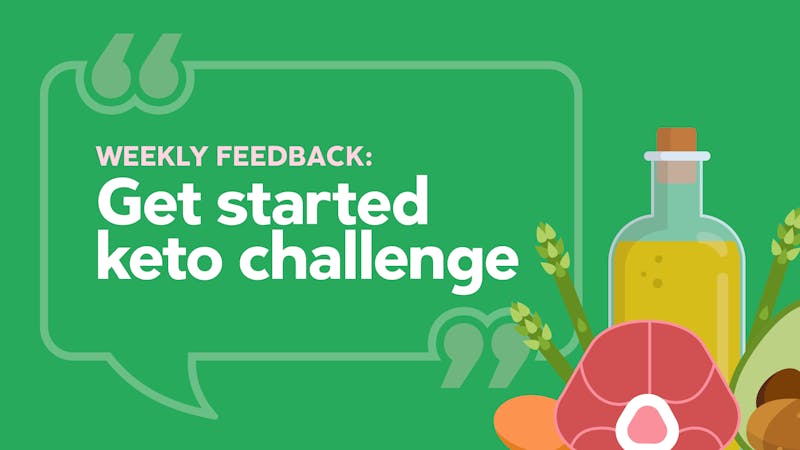 Over 865,000 people have signed up for our free two-week keto low-carb challenge. You'll get free guidance, meal plans, recipes, shopping lists and troubleshooting tips – everything you need to succeed on a keto diet.
Here are new inspirational stories from people who've taken the challenge:
Feedback
Good morning!

I enjoyed the first two weeks of your program. I can't think of another diet that I've tried that I can say that about! I've lost weight, and several of the suggested dinner items were good enough that I would make them again even if I'm not actively pushing weight loss.

Having the morning email to check is particularly helpful, as is the Sunday shopping list. It takes away the guesswork.

A friend of mine lost a lot of weight on keto so I know it can work. I have a long way to go so I'm hopeful that I can sustain since so far it doesn't seem that I'm deprived at all.

Thanks!
Judy B.

---

My husband and I are 63 and live in St.Petersburg, Florida. We just completed the two-week challenge and my husband lost 9 pounds (4 kilos) and I lost 7 lbs (3 kilos)!

The online recipes are absolutely delicious and our cravings for bread/pasta/dessert have disappeared. I didn't really need to lose much weight, but when I started I was 133 pounds (60 kilos) at 5'3″ (160 cm).

My goal weight for the last few years has been 125 pounds (57 kilos) and no amount of 'lean' eating or workouts helped me achieve that goal. To be within ONE pound of my goal weight of 125 pounds after only two weeks is unbelievable and our energy and stamina are way up as well. The best part is that we are eating foods we love, so this will be sustainable.

Thank you for your inspiration and for the tools and information to make this happen for us!

Lois

---

My wife and I both did the challenge. We are happy with the results and intend to continue.

In two weeks, we lost 20 pounds (9 kilos) between the two of us. Day three and four were the hard part. We both felt the effects of changing our diet so drastically. The Diet Doctor emails are very helpful. Once we understood what was happening we both felt much better and persevered.

My wife appreciated the menu suggestions and was able to easily plan our meals. We both have habits we are fighting to change, but we both admit the cravings are just not there anymore. I have not reached for a bag of chips in two weeks, and don't even think about it.

Sweet deserts will be our toughest battle. My wife loves to make desserts and is very good at it. We did cheat on day 11 and had a small dessert with dinner.

Our experience with the challenge is very positive.

We are 51 and 52 years old. We live in central Ontario, Canada.
Steven

---

Hello there,

I have just completed the keto challenge for two weeks and I loved it. This is the first time in my 70 years that I have found a system to help me begin to lose weight and love what I am eating. I am never hungry and have not had the need to eat between meals.

I am so very grateful to have discovered this system. You'll notice I don't use the word "diet", I don't see this way of life as a diet.

Sincerely yours,
Suzanne

---

It was very good and I've actually become a member to help lose more weight. Some of the recipes are great and very tasty.

I love the fact that you do a shopping list and method of making food. Makes life so much easier.

Regards,
Sue Wallace
---
Get started today!
Sign up for instant access to a simple step-by-step guide to the keto challenge. You will also receive meal plans, recipes and shopping lists for two weeks. In case you have not received an email from us after signing up, please check your spam folder too!
Already signed up? Click here.
---
Success stories
Share your story
Do you have a success story you want to share on this blog? Send it (photos appreciated) to frida@dietdoctor.com, and please let me know if it's OK to publish your photo and name or if you'd rather remain anonymous. It would also be greatly appreciated if you shared what you eat in a typical day, whether you fast etc. More information:
Share your story!
Support
Do you want to support Diet Doctor and get access to bonus material? Check out our membership.
Join free for a month
Success stories
Low-carb basics
Weight loss advice