The keto challenge: "So encouraging and 5 pounds gone!"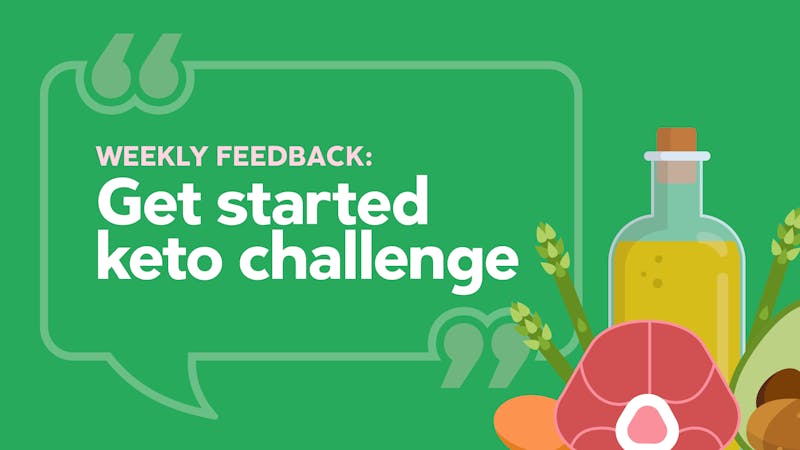 Over 820,000 people have signed up for our free two-week keto low-carb challenge. You'll get free guidance, meal plans, recipes, shopping lists and troubleshooting tips – everything you need to succeed on a keto diet.
Here are new inspirational stories from people who've taken the challenge:
Feedback
The 2-week keto challenge was great. We are sold and will be continuing this lifestyle change for longevity.

A family member with type 2 diabetes is off medications and with very well controlled blood glucose levels with a keto lifestyle.

It's an adaptation to change the mindset for sure. Cooking with "fat" is not yet "normal" but loving the recipes.

Feeling full and satisfied makes for zero to little cravings and that is a very welcomed change.

The information provided in the emails and recipes were great. The website is loaded with an amazing amount of educational materials that made searching for topics a breeze.

Thank you for all your services and support!

Sincerely,
Jo Ann Howard

---

Wow! So encouraging and 5 pounds (2.5 kilos) gone! This would be great to start again, but I'm not giving up. I have struggled with taking the weight off. Well, KETO is the way for me.

Thank you so much!
Lolita

---

The recipes were simple and very tasty. My family loves the Asian cabbage stir fry so much I made it twice.

It was very easy to stick to the menu and I rarely felt hungry. I lost 5 pounds (2.5 kilos) in the two weeks and never noticed any of the side effects that occurred with others.

Female age 47 in Canada.

---

I completed the keto challenge. I enjoyed the recipes and intend to continue with a keto diet.

I lost an inch (2.5 cm) off my waist and 6 pounds (3 kilos) in weight over the two-week challenge. And ate Brussels for the first time in my life, never liked them before😊

---

Hi, Kathy here.

I joined the Keto challenge and really liked it. The menu/recipes are all very good. I lost 8 pounds (3.5 kilos) in 18 days.

I had good energy. I did get bad breath (bad enough a friend had to say something) I googled it and read that it is a symptom for some when reaching ketosis… I have changed up many of my vegetables and not as much red meat… Six days later my breath is better😀

Keto got me started, now I am eating healthier. Not full keto, but this was my plan.

Your emails for follow up definitely helped and your site was easy to follow.

Thanks,
Kathy
---
Get started today!
Sign up for instant access to a simple step-by-step guide to the keto challenge. You will also receive meal plans, recipes and shopping lists for two weeks. In case you have not received an email from us after signing up, please check your spam folder too!
Already signed up? Click here.
---
Success stories
Share your story
Do you have a success story you want to share on this blog? Send it (photos appreciated) to frida@dietdoctor.com, and please let me know if it's OK to publish your photo and name or if you'd rather remain anonymous. It would also be greatly appreciated if you shared what you eat in a typical day, whether you fast etc. More information:
Share your story!
Support
Do you want to support Diet Doctor and get access to bonus material? Check out our membership.
Join free for a month
Success stories
Low-carb basics
Weight loss advice