The keto challenge: "Priceless knowledge, great support"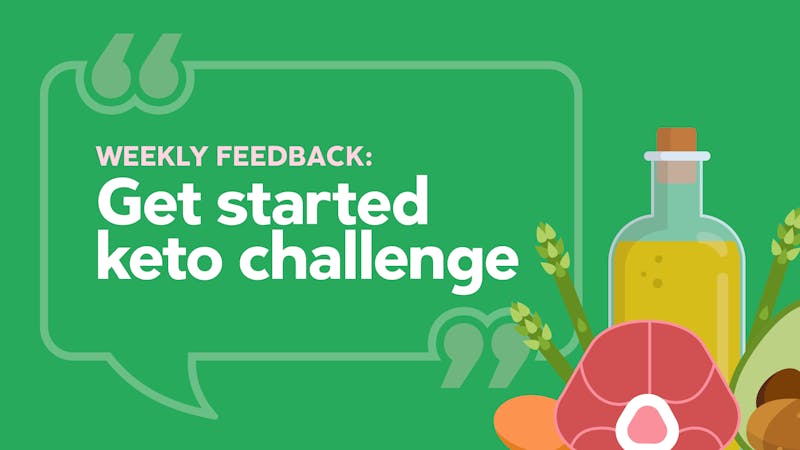 Over 880,000 people have signed up for our free two-week keto low-carb challenge. You'll get free guidance, meal plans, recipes, shopping lists and troubleshooting tips – everything you need to succeed on a keto diet.
Here are new inspirational stories from people who've taken the challenge:
Feedback
The keto program was great. The meal size is cut down to what I normally eat, so the first couple of days were hard. But I have got to try new tastes and I lost 3 kilos (6.5 pounds) and 3 cm (1″) off my waist with no exercise! I am enjoying it so much that I have joined Kristie's 5-week program.

Jodie

---

Hello,

Robert Miner here. 69 years young, resides in Texas. What do I think? Priceless knowledge, great support.

I got so totally fed up with my medical doctor telling me to eliminate sugars and get on self-administered Lantus pen: "Start at 10 units per day and bump it up by 2 units every two or three days until your blood sugar numbers are consistently below 100". Never happened.

He did NOT mention that when the insulin goes up, my weight goes up. Got to 50 units per day, and my weight was up over 20 pounds (9 kilos) and blood sugar still over 200. I began a desperate search and found Diet Doctor, signed up for the two-week challenge and in ten days dropped 17 pounds (8.5 kilos).

I am at the end of the two weeks and my blood sugars are now running 131 and going down, while at the same time I am reducing my Lantus slowly… now at 44 units per day. And I am feeling great. My energy is coming back and my mental clarity is returning.

Thank you, Diet Doctor!!
Robert Miner

---

Hello,

I loved the two-week challenge. The meals were tasty and simple to prepare. I loved it so much I recommended it to a couple of friends and they signed up, so I am repeating the two-week challenge with them. I will sign up for the five-week challenge after this two-week challenge.

Oh, I am 62 years old and live in Washington State, USA

I'm also down 6 pounds (3 kilos)!

Thanks for asking,
Teresa Winslow

---

Easy to follow. Hard start but as you said, it got better. Lost 3.5 pounds (1.5 kilos). Good recipes. Will continue low carb lifestyle.

Thanks,
Nancy

---

Good morning!

This website was absolutely amazing. The detailed information and charts that were provided were fool-proof and easy to follow. The videos, the recipes….everything was very useful! Without it, I don't think my first two weeks would have gone as easily as they did!

I will continue to reference this website as I continue my keto journey and thank you for putting so much time and effort in to help others on their journey to health and happiness!!!

Amber
37 years old
Ontario, Canada
---
Get started today!
Sign up for instant access to a simple step-by-step guide to the keto challenge. You will also receive meal plans, recipes and shopping lists for two weeks. In case you have not received an email from us after signing up, please check your spam folder too!
Already signed up? Click here.
---
Success stories
Share your story
Do you have a success story you want to share on this blog? Send it (photos appreciated) to frida@dietdoctor.com, and please let me know if it's OK to publish your photo and name or if you'd rather remain anonymous. It would also be greatly appreciated if you shared what you eat in a typical day, whether you fast etc. More information:
Share your story!
Support
Do you want to support Diet Doctor and get access to bonus material? Check out our membership.
Join free for a month
Success stories
Low-carb basics
Weight loss advice