The keto challenge: "My cardiologist recommended this program"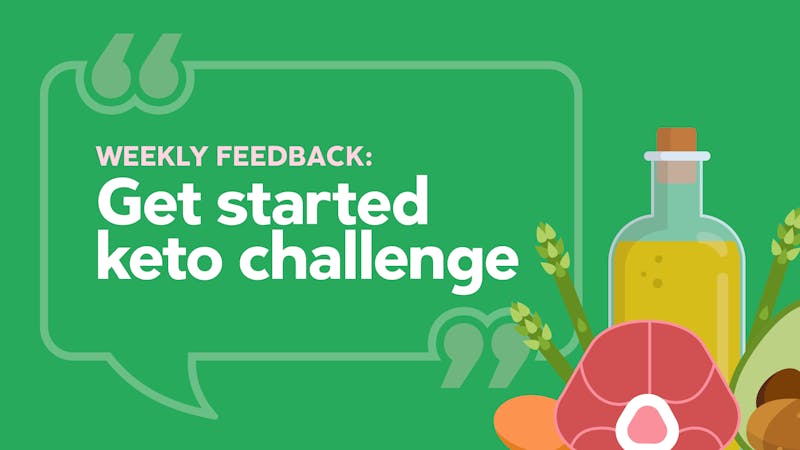 Over 740,000 people have signed up for our free two-week keto low-carb challenge. You'll get free guidance, meal plans, recipes, shopping lists and troubleshooting tips – everything you need to succeed on a keto diet.
Here are new inspirational stories from people who've taken the challenge:
Feedback
Hi, my name is Wende, and I live in North Wales.

I have just completed the two-week challenge (and moved on to the free membership 30-day trial). I found the plan great, you make it very easy with the recipes and the shopping lists. I have absolutely no complaints but I was a little overwhelmed by the food and fat content for the first few days. I am a greengrocers wife and we stock up on lots of veggies at mealtimes, I missed them.

I have not been hungry at all and the desire for carbs have lessened and lessened, I am no longer bothered by them. We have been to a few social occasions and resisting the high carb party food on offer was quite easy, I would normally find it impossible to resist high-carb pastry buffet foods.

I would have liked to have lost a little more weight (3 pounds (1.5 kilos)), but the other benefits are so good that I am happy to ignore that and continue with the plan. Better mental clarity, more energy, age spots fading on the back of my hands, skin tags reducing in size, changing shape, inch loss, not hungry, not feeling bloated and much less inflammation. (I actually did not realise that I was suffering from inflammation!)

Two years ago, I was in 'the prediabetic range' I am having it retested on Friday and I am hopeful that it will be lower this time. I would be thrilled if I am found to be out of the pre-diabetic range and it would just confirm and motivate me to carry on.

Thank you, DD,
Wende

---

Good morning! First of all, my husband and I began this journey together.

We were already somewhat following a keto diet, but we're looking for a supportive program. My cardiologist recommended this program. We are 54 years old and from Nova Scotia.

I really like getting the daily emails from Diet Doctor. They provide a lot of information and tips which we appreciated. They were useful and gave us the knowledge and support we were looking for.

The recipes! We really enjoyed the recipes and the weekly format. The flavours were excellent and it was not all salad, salad, salad – which has been my experience on past programs. We have a large family and always took a Thursday or Friday to plan our menu for the next week so everyone was prepared so your weekly planning worked well for us. AND our children enjoyed the food too :) They are young adults and really adapted well to eating what we were eating so no extra meals to prepare.

We are doing this program as a lifestyle change and for weight loss. Looks like it is going to be a success!

Thank you,
Kimberly

---

Hello, here's my experience with the keto challenge.

I stumbled upon Diet Doctor while researching how to break sugar addiction. I had heard that if a person could go ten days without sugar it would break the addition… I tried it in the past and even though I fell back into old habits I believe it was successful. So I was a few days into my "sugar break" when I read about and decided to take the keto challenge.

At first, I had this "clench your teeth and do it" type of attitude so when I found out that it started on Sunday, I felt relieved. I liked the directions to prepare and the shopping lists. Actually, the shopping list, recipes, cooking instructions are like nothing I've seen before. It was SO helpful! And the food was delicious. Food that I cooked, in MY kitchen. Eating breakfast and going to work with a packed lunch made me feel super successful. The daily emails were helpful also. They were simple, direct and positive. It was a little cheering section from Diet Doctor.

I would say the primary benefit I've enjoyed from the challenge is having more energy and mental clarity. I'm also super proud of myself that I cooked every day. Also, I absolutely love that I am less bloated in my stomach. From the beginning, I completely doubted any weight loss benefits. I "may" have lost 5 pounds (2 kilos) and I didn't do any follow-up measurements. I guess I'm looking for non-scale victories. Like being able to bend over and clip my toenails and one day wearing my wedding ring again. It's sad for me to admit I don't see myself as having much of a success story. My home life is very stressful and I turn to corn chips and ice cream for companionship and comfort. False comfort and companionship obviously. It's an ongoing battle.

As for other statistics: I am 46 years old; I live in Wisconsin, USA. My mother has type 2 diabetes and my doctor says I'm prediabetic. So I want to turn things around. I want to eat better and move more. Stop eating processed foods 100%.

Thanks for everything,
Brenda


---

The 2-week challenge was probably the easiest 8 pounds (4 kilos) that I have ever lost.

It was so easy as the menu was provided, the grocery list was provided, all you had to do was cook it and eat it. The meals were delicious. Honestly, some of them were more flavor-filled than meals I had previously thrown together on my own prior to trying this.

I was pleasantly surprised! So much so that I joined in order to continue the weight loss journey with the convenience of the menu and grocery list for shopping. The mini videos are also great for someone who has no idea what keto dieting is all about, like myself. It took me two and a half weeks to hit optimal ketosis at 1.5. I have not cheated, nor have I had a craving strong enough to push me to want to cheat. I have told some family members and friends who are all giving it a try.

Thank you for the great website full of resources,
Dina

---

Good morning, I really enjoyed the keto challenge.

I am a 50-year-old woman, who lives in NY. In the two-week period, I lost 6 pounds (2.5 kilos). I had been doing Weight Watchers but was unable to drop any weight… I thought it might be too difficult to eliminate carbs and sugar, but after the first few days of adjusting to it, I really found it to be an easy transition. Experienced minimal "keto flu" symptoms. I love to cook and am enjoying experimenting with new recipes. My husband and I are continuing on keto after this 2-week challenge.

Thank you!
Lisa
---
Get started today!
Sign up for instant access to a simple step-by-step guide to the keto challenge. You will also receive meal plans, recipes and shopping lists for two weeks. In case you have not received an email from us after signing up, please check your Spam folder too!
Already signed up? Click here.
---
Success stories
Share your story
Do you have a success story you want to share on this blog? Send it (photos appreciated) to frida@dietdoctor.com, and please let me know if it's OK to publish your photo and name or if you'd rather remain anonymous. It would also be greatly appreciated if you shared what you eat in a typical day, whether you fast etc. More information:
Share your story!
Support
Do you want to support Diet Doctor and get access to bonus material? Check out our membership.
Join free for a month
Success stories
Low-carb basics
Weight loss advice