The keto challenge: " I'm amazed and delighted"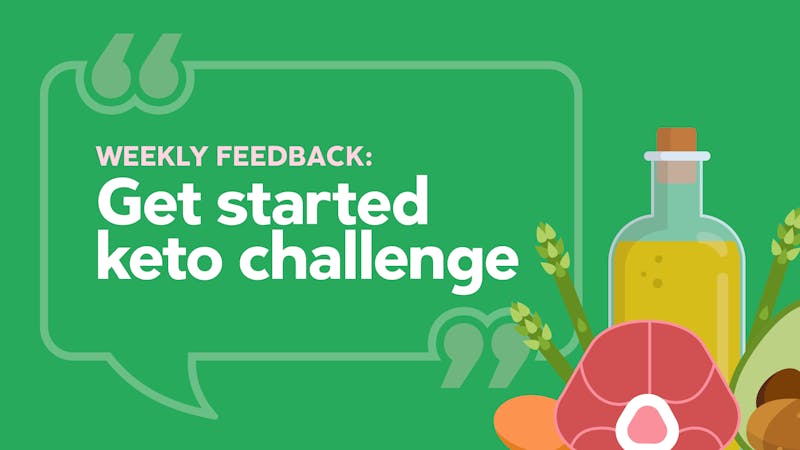 Over 815,000 people have signed up for our free two-week keto low-carb challenge. You'll get free guidance, meal plans, recipes, shopping lists and troubleshooting tips – everything you need to succeed on a keto diet.
Here are new inspirational stories from people who've taken the challenge:
Feedback
LOVED the keto challenge, you gave me all the info I needed (I especially like all the different meal plans).

I love all the videos and research topics too. I lost 20 pounds (9 kilos) during the challenge, I'm amazed and delighted. I didn't feel deprived or like I was sacrificing my enjoyment of food, it kind of just happened.

I'm 63, in the USA.
Thanks so much,
JB

---

Gary B – aged 52, England – feeling well and although not very overweight my trousers definitely need a belt to hold them up now.

There were no highs and lows of hunger and it was good to not feel bloated all the time. I did feel fatigued at times but as explained in the emails/site I just need to up my fluid intake and salt to resolve.

I thought the challenge was really well delivered. From the preparation message at the beginning and one email per day with instructions, giving encouragement and links to information if needed, not overwhelmed with things to do.

I do like the layout of emails and each day's instructions, clear, concise with information and help if you need it.

Great content and looking forward to continuing this always.
Keep up the great work,
Gary

---

Hi,

I thought the plan was great. Although I didn't choose every suggested menu every day I found something I really enjoyed.

The site is very helpful in keeping my interest going. I live in a village in the South of France so its easy to eat fresh food.

I will keep going. I've lost 5 kilos (11 pounds) already, although I had started LCHF before starting so the two combined are working well – I feel great.

Thanks,
N

---

The challenge was an excellent introduction to a new way of eating for me.

My HbA1c readings are back in the safe zone and I dropped 5 pounds (2.5 kilos) in the 2 weeks. I will certainly continue to follow this way of eating and am thankful my doctor recommended I check out your website.

The tutorials and inspirational messages are extremely useful and will help me stay on track. Thank you for a very successful start to a healthier me!

Cheers,
Barbara

---

I found the 2-week challenge an awesome way to start the keto diet.

I am 50 years old and live in Alberta Canada. I was diagnosed with nonalcoholic fatty liver. After all the tests they ran, they could medically find nothing. I finally got to see a liver specialist and he was the one who introduced me to the Diet Doctor website.

I must say the one thing I had a really hard time wrapping my head around was the high-fat part of the diet. After reading the information on Diet Doctor it really helped me to understand how everything works regarding the body's process.

I love the challenge because of the meal plans, it helps a person know how to go about it and gets you on the right track and stay there. I have lost 10 pounds (4.5 kilos) and 1 inch (2.5 cm) off my waist.
---
Get started today!
Sign up for instant access to a simple step-by-step guide to the keto challenge. You will also receive meal plans, recipes and shopping lists for two weeks. In case you have not received an email from us after signing up, please check your spam folder too!
Already signed up? Click here.
---
Success stories
Share your story
Do you have a success story you want to share on this blog? Send it (photos appreciated) to frida@dietdoctor.com, and please let me know if it's OK to publish your photo and name or if you'd rather remain anonymous. It would also be greatly appreciated if you shared what you eat in a typical day, whether you fast etc. More information:
Share your story!
Support
Do you want to support Diet Doctor and get access to bonus material? Check out our membership.
Join free for a month
Success stories
Low-carb basics
Weight loss advice