The keto challenge: "I am not stopping anytime soon."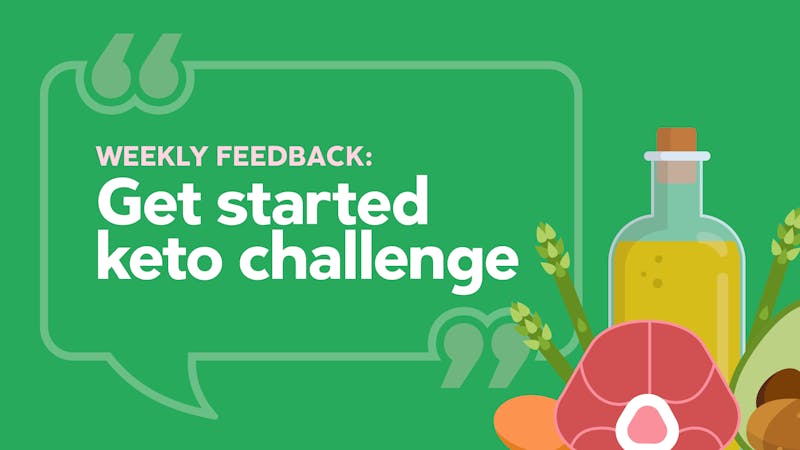 Over 735,000 people have signed up for our free two-week keto low-carb challenge. You'll get free guidance, meal plans, recipes, shopping lists and troubleshooting tips – everything you need to succeed on a keto diet.
Here are new inspirational stories from people who've taken the challenge:
Feedback
Hello, I've just completed the first two weeks of keto meal plans.

I can honestly say I've not been hungry and that the dishes, in general, were delicious.

In the first week, I lost 8.5 pounds (3.5 kilos) but stayed the same on the second week. I lost 3 inches (8 cm) from my waist. My mid-section is where I carry all of my weight and as a person diagnosed with type 2 diabetes, despite regular exercise and sensible eating, I've never been able to shift weight far in this area.

My daily blood has reduced from around mid 6 to mid 4, occasional 5s and overnight increases have been minimal and but like previously when they were prone to rise significantly. I can't wait to visit my consultant in April to see his reaction as it's about 19 years since I was diagnosed. My control has been quite good, but this is fantastic.

Thanks for the information and meal plans with recipes. Taught me a lot. I intend to continue but now move on to a low-carb plan, rather than keto and just use keto when I need to address any increases in blood or weight.

I am 64 and live in England,
Hazel

---

From the bottom of my heart I am very thankful for this program.

I have tried so many things and nothing has worked for me until now. This program is simply easy, effective and most importantly of all delicious. For the first time in forever, I'm on the right path and I'm in control and finally found something that works for me. Thank you so much for giving me my life back.

Jackie, 29, Florida

---

The keto challenge was good.

The meals were delicious and I can't say there were any I didn't like. Even my family enjoyed the meals without me saying they were keto. The only downfall was that all the cheese was hard on my digestion and I had trouble with constipation. I will be staying with a plan like this just with some modifications, not so much cheese.

Georgia, 43, New York


---

My husband expressed surprise and dismay about his increasing waistline. With an athletic build, he has never worried about weight. But age (and perhaps casual eating) finally caught up with him.

Me? I've been fighting the weight battle since my teens, most successfully with LC since Dr. Atkins came along. But settling into a new marriage had given the advantage to the weight creep."Believing in LC" and "mostly LC eating" clearly wasn't enough. I needed an intervention. So I proposed that we both jump into the 2-week keto challenge. Game on.

We kicked the snack habit (peanuts ARE addictive) and gave up happy hour (at least for now). I served up several of the outstanding easy and delicious recipes in the menu suggestions. We agreed to do a weekly fasting period – skipping dinner one evening. I enjoyed reconnecting with my best LC self via daily reminders from Diet Doctor. We are now one-half of a week past the end of our 2-week challenge.

Did anything dramatic happen? No. Good habits and great results take time. We both got into keto and did not suffer any unpleasant symptoms. As for me, the intervention worked. I'm inspired to continue on the path to my best self. And my husband will continue to enjoy my new enthusiasm for interesting experiments in the kitchen.

Barbara

---

Omg, you are the best. At 59 years old, I have tried everything. I took the challenge and my end results: I lost 10 pounds (4 kilos). I am not stopping anytime soon.

I love you guys,
M
---
Get started today!
Sign up for instant access to a simple step-by-step guide to the keto challenge. You will also receive meal plans, recipes and shopping lists for two weeks. In case you have not received an email from us after signing up, please check your Spam folder too!
Already signed up? Click here.
---
Success stories
Share your story
Do you have a success story you want to share on this blog? Send it (photos appreciated) to frida@dietdoctor.com, and please let me know if it's OK to publish your photo and name or if you'd rather remain anonymous. It would also be greatly appreciated if you shared what you eat in a typical day, whether you fast etc. More information:
Share your story!
Support
Do you want to support Diet Doctor and get access to bonus material? Check out our membership.
Join free for a month
Success stories
Low-carb basics
Weight loss advice