The keto challenge: "Everything was truly delicious and satisfying"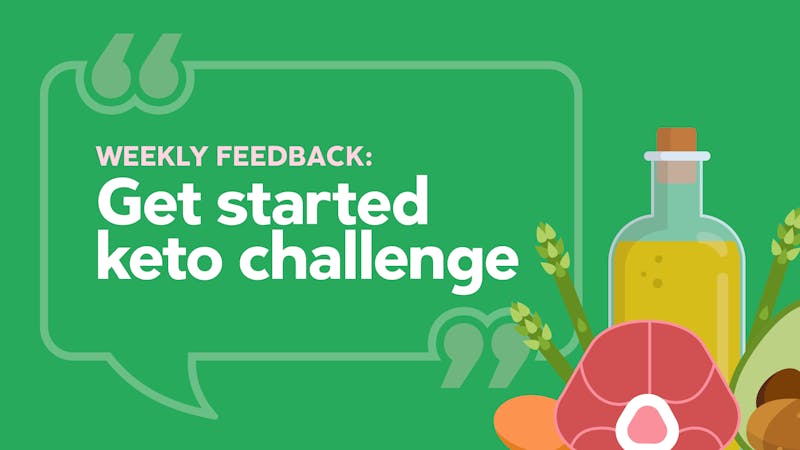 Over 890,000 people have signed up for our free two-week keto low-carb challenge. You'll get free guidance, meal plans, recipes, shopping lists and troubleshooting tips – everything you need to succeed on a keto diet.
Here are new inspirational stories from people who have taken the challenge:
Feedback
Hi there,

I very much enjoyed the keto challenge. I lost 8 pounds (4 kg). What I realized is that, for my family's lifestyle, I probably need to prep and pre-make some meals, as evenings are very short for us.

That said, I also learned where some hidden carbs are, and expanded my understanding of how to really reduce carbs and cook in a truly keto way.

Thank you for this experience. While we didn't stay on the exact calendar set out, and we improvised a couple of times, everything was truly delicious and satisfying.

Thank you!
Laura

---

This challenge was user-friendly and a great resource. I was initially ambivalent in getting started, but the daily emails is what made it super easy to get started. I didn't have to login to the website to find my daily plan, it was sent straight to my email.

The recipes were easy to follow and very tasty. I would've liked some videos, but for the most part they were so easy that I didn't need it. I also felt that I didn't waste a lot of food because many of the ingredients are constantly used. I highly recommend this website to get started.

Thank you!
Blanca

---

Hi, I'm Emilie and I'm 28 years old, I've been struggling with my weight for a couple years now and I've try a lot a things and didn't work out, I heard about keto a lot but I was hesitant but I decide to try the two-week challenge for free I thought to myself I have nothing to lose and I was right.

I learnt a lot of things during this two weeks and I also lost 6 pounds (3 kg), which I think is lot for me because I've tried so hard.

I've been working out five times a week and sometimes three times a day and I notice that I gain muscle but on the scale the weight didn't fall out, so thanks because I learned that working out too much wasn't good for me either, and with the right diet I can lose weight and I'm planning on sticking to it,

Thanks for all the daily emails, they really help me to keep going!

---

I'm a 41-year old mom of four. My goal is to feel more energized and lose 10 pounds (5 kg).

I found this challenge helpful because the videos were so encouraging. It's also nice to understand what's happening in your body, it makes it easier to push forward.

Over the course of this challenge I have lost 6 pounds (3 kg).

Thank you!!
Shauna

---

It's my first time doing keto so this was a great start, everything planned for me to buy and cook the recipes and a daily email reminder.

I also loved the recipes and loved the fact that you cook dinner with enough for lunch the next day. will continue on the next 5-week plan.

Thanks,
Julia
---
Get started today!
Sign up for instant access to a simple step-by-step guide to the keto challenge. You will also receive meal plans, recipes and shopping lists for two weeks. In case you have not received an email from us after signing up, please check your spam folder too!
Already signed up? Click here.
---
Success stories
Share your story
Do you have a success story you want to share on this blog? Send it (photos appreciated) to frida@dietdoctor.com, and please let me know if it's OK to publish your photo and name or if you'd rather remain anonymous. It would also be greatly appreciated if you shared what you eat in a typical day, whether you fast etc. More information:
Share your story!
Support
Do you want to support Diet Doctor and get access to bonus material? Check out our membership.
Join free for a month
Success stories
Low-carb basics
Weight loss advice