The Diet Doctor purpose: How would you like to contribute?
How would you like to contribute to the Diet Doctor cause? We asked our members and got more than 2,000 replies. Here are the results: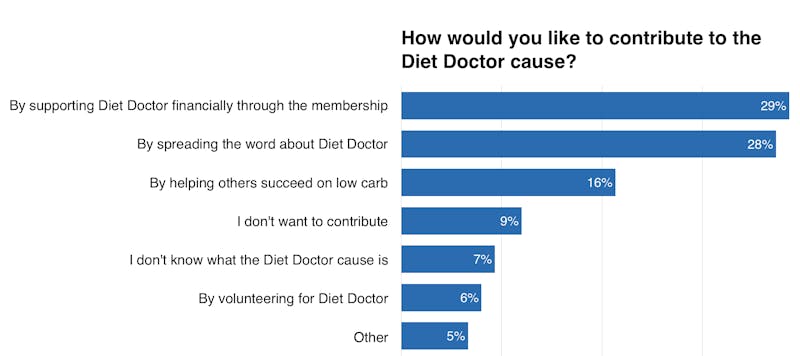 The Diet Doctor purpose
As you can see, nearly all members apparently know what the Diet Doctor cause is. This is awesome as the cause is massively important to us – the reason we go to work in the morning.
Diet Doctor isn't a "normal" company. We don't exist to make as much money as possible, we don't believe in that. We have no investors, nobody who needs their money back with interest, so we can take an extremely long-term view. We're a purpose-driven company like SpaceX and Tesla, meaning we exist to make a difference.
The difference we want to make, our purpose, is this:
Empowering people everywhere to revolutionize their health.
To make such a difference we must think long-term and we're working hard to build a company that can outlive us.
However, to focus our daily efforts we also need a more short-term mission. This mission can be seen as the next significant achievement we're going to make on the long journey towards our purpose.
Our current mission is to make low carb simple.
We believe a billion or more people could benefit from low carb, especially those who suffer from obesity and type 2 diabetes, and we're massively excited about achieving this mission, making low carb simple to do.
Learn more about our purpose and mission
Thank you
You are the reason we can hire great people and work hard to make low carb simple. And hard work pays off – DietDoctor.com is now the largest low-carb site in the world. Pretty cool.
We're not willing to compromise our trustworthiness by having ads, selling products or taking money from industry, and therefore your contribution is essential to our existence.
This would not have been possible without people like you. Not without over 16,000 people supporting us via our optional membership. Not without everyone who is spreading the word about Diet Doctor or helping other people succeed on low carb.
Thank you.
What does "making low carb simple" mean to you?
Do you want to make a small but important contribution right now? Then answer this question:
What would have to change for low carb to feel simple for you?
We're trying to answer this question and knowing your opinion will help. Email your answer to us or comment at the bottom of this page.
Earlier surveys
What One Word Best Describes DietDoctor.com?
What's Your Main Issue on Low Carb?
What Four Low-Carb Experts Should We Interview Next?
How Can We Make The Membership Insanely Great?
What Do You Want Us to Write About Next?
What Do You Want Us to Do Next?
Would You Recommend the Diet Doctor Membership to a Friend?
What's The Key Benefit of Being a Diet Doctor Member?
For How Long Have You Eaten Low Carb
The Biggest Challenges On Low Carb
Would You Recommend Eating Low Carb?
How Often Do Low Carbers Cook?
How Often Do Low Carbers Eat Non-Low-Carb Foods?
The Biggest Fears on Low Carb – and the Solutions