Team Diet Doctor: Kate Nordin's favorites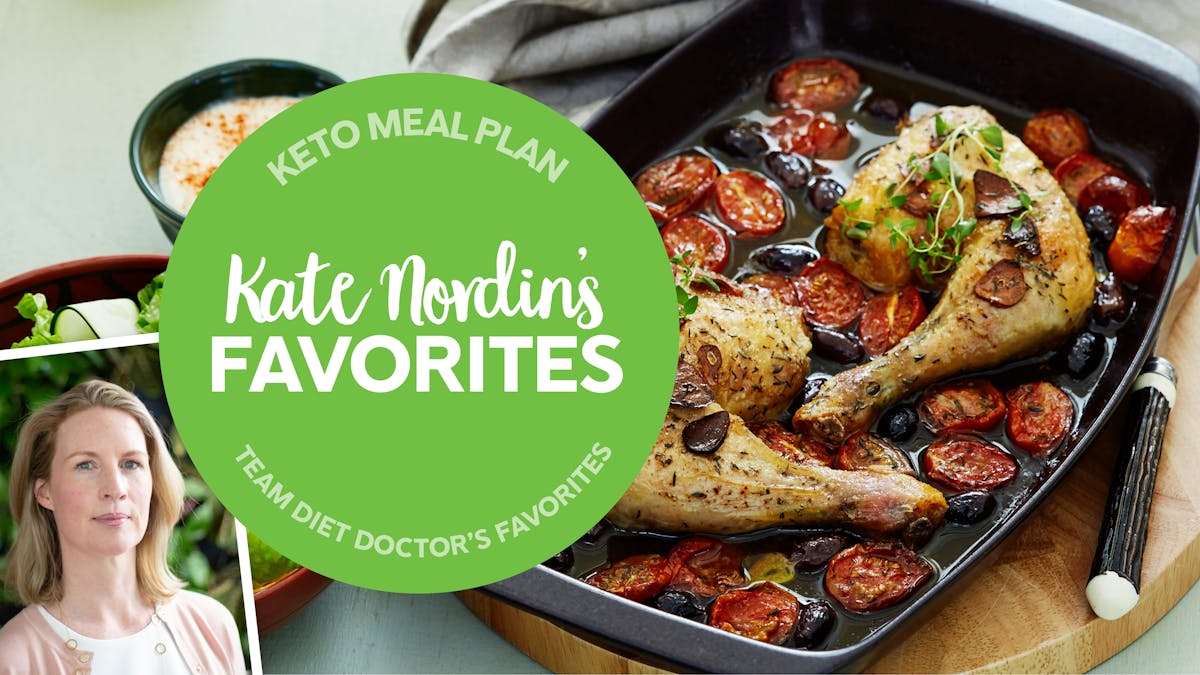 For this week's meal plan, Kate Nordin, senior content manager on our recipe team, shares some of her favorite breakfast, lunch, and dinner ideas.

As a busy working mom to three young children (all under 5), Kate, who's also a qualified nutritionist, has learned to master time-saving techniques in the kitchen.

Here, she shares her top recipe picks — all of which will keep you at under 20 grams of net carbs per day!

When preparing meals, Kate always keeps feeding the whole family in mind — except, of course, on days when she enjoys both the benefits and time saved from intermittent fasting.

Given Kate's background in nutrition, she's familiar with a range of tasty low-carb and keto recipes. Lucky for us, she's included her favorites in this week's meal plan.

For breakfast, you'll find Kate's favorite coconut pancake recipe, which is fan-favorite at her house on the weekends. For dinner, she's included plenty of healthful options, including salmon with crispy herb and walnut crust, keto pizza, and chicken Provençal.

With each of these simple, family-friendly meal ideas, you'll enjoy how amazing they taste. And you'll love that you're actually spending less time in the kitchen than usual.

And remember: With this week's lineup, feel free to adjust, change, or skip any meal. It's completely up to you!
More meals ideas
Looking for more recipes? We now have 154 low-carb meal plans available – including keto, quick & easy, budget, vegetarian, and Team DD favorites. With so many options, there's no need to feel bored with your keto diet.

DD+ MEMBERSHIP

Kate Nordin, Content Manager on Diet Doctor's recipe team, created this week's meal plan. As a working mom-of-three (all under age 5), Kate, who's also a qualified nutritionist, learned to master time-saving techniques in the kitchen.

Here, she shares her favorite breakfast, lunch, and dinner ideas that both taste great and are simple to make.

"I like to keep things simple, yet nutritious. I spend a bit more time on the weekends making something fun for the family to eat, such as pancakes or pizza, which are, of course, the kid's favorites. I love cooking, so the weekends allow me to be a bit more expressive with food, while also being able to sit and enjoy each meal with my five-year-old twins, two-year-old, and husband."

This meal plan will keep you below 20 grams of net carbs per day.

This keto meal plan is filled with deliciously simple and no-cook, time-saving meals. And it all keeps you below 19 g net carbs per day.

Try out for free 1 month
Top keto recipes
What is everyone else eating? Check out some of our most popular keto options that thousands of readers come back to, time after time. These tasty dishes are keto favorites for a reason:
Latest keto meal plans
DD+ MEMBERSHIP
---
---
---
---
---