Stupid fear of cholesterol and obesity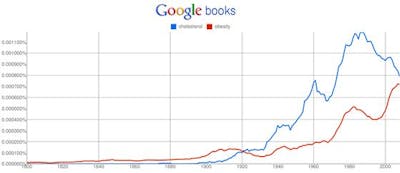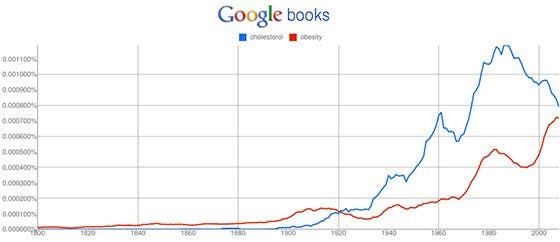 Today I saw a great TED talk about how millions books from the last two centuries are now scanned and searchable, courtesy of Google. You can see how different words become more or less usual in printed books over time.
I decided to search for cholesterol and obesity (blue and red line above). The timeline is from the year 1800 to 2010. Notice how the fear of cholesterol was hot in the 1980s, like other things that are now unfashionable.
Unfortunately fearing cholesterol makes people avoid fat and eat more of something else. Often bad carbohydrates. Is it a coincidence that "obesity" became a hot topic about two decades after the fear of cholesterol? I don't think so.
The good news is that the fear of cholesterol is now becoming obsolete. Does that mean the prevalence of obesity may soon start dropping again? I think so. But it will take a lot of education and hard work.
More examples
After publishing this post I got an email right away:
Hi Andreas,

Small world! Last night, I had actually Ngram'd precisely that – cholesterol and obesity. I'm not sure if at some point in time the public focus shifted from 'cholesterol' to 'HDL/LDL' and the nomenclature changed etc.

Anyway, Ngram is a marvelous tool, which I use the hell out of. Here are some things from it that might help:

all the best,
JH

—
James AJ Heathers
Ph.D. Cand., M.Sc., B.Ec.
Interesting stuff. James Heathers blogs at ThePsychoPathologist.
More