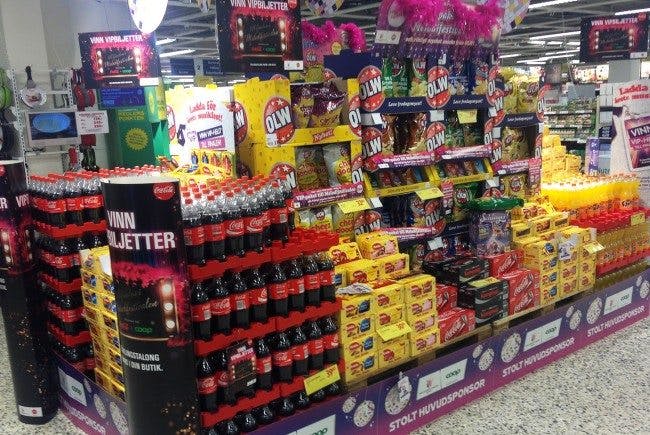 This is the entry to my grocery store. It's time for one of many Song Festival Competition nights, selecting Sweden's entry to the Eurovision Song Contest 2014, and this means going face down in sugar. It's only once a year!
Or wait, it's not just once a year we're binging on bad carbs. It's every day we can find an excuse, that is, most days.
This is the real cause of children's obesity. It's not that they were born with stomachs that needed to be surgically removed, no matter what some think.
And no, children with a weight problem don't need to eat candy and drink soda. Not even a little. Not at all. No more than a person with pulmonary disease needs to smoke a cigarette. No more than an alcoholic needs a drink.
What children with weight problems need is a home free of temptations, and to eat themselves satisfied on real food. Weight loss without hunger. Parents can provide the children that opportunity.
More
Obese Kids Going Under the Knife – for Weight Loss
The Health Cake is Catching On
McDonald's: Don't Eat Our Food – It's Not Good for Your Health
Despite Promises, Kids Still Bombarded With Junk Food Ads