The real association between butter and heart disease in Sweden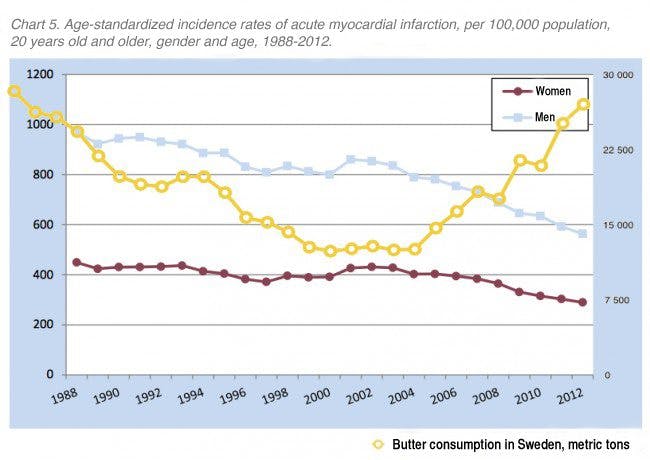 The outdated fear-mongering propaganda claiming that a dramatically increased butter consumption in Sweden has also increased the incidence of heart disease is once again crushed by reality.
New statistics from The Swedish National Board of Health and Welfare show the exact opposite. The incidence of heart attacks in Sweden keeps plummeting, for both men and women, just as they have done since 2005. We are becoming healthier, despite eating more and more butter.
The Swedish National Board of Health and Welfare: Fewer people suffer heart attacks (statistics 1988-2012, Google translated)
As modern science time and time again has shown that a low-fat diet doesn't do anything good for heart health, nobody should be surprised. But there are definitely people that need to update their knowledge.
Above is the butter consumption in Sweden (yellow line) in relation to statistics on heart disease (blue + purple). The axis for butter consumption is to the right.
The Swedish butter consumption just keeps going up, while the incidence of heart attacks keeps going down.
So, what's the correlation between butter consumption and heart disease? None. There is no correlation.
That the old theory on saturated fat and heart disease has been a mistake has already been proven in high quality studies (RCT). This is just a telling illustration.
Fear of butter is as scientifically well-founded as fear of monsters under the bed.
More
The Real Cause of Heart Disease
Heart Doctor: Time to Bust the Myth about Saturated Fat and Heart Disease
Chief Physician: Forget About the MyPlate Guidelines