Paleo vs cupcake: good news!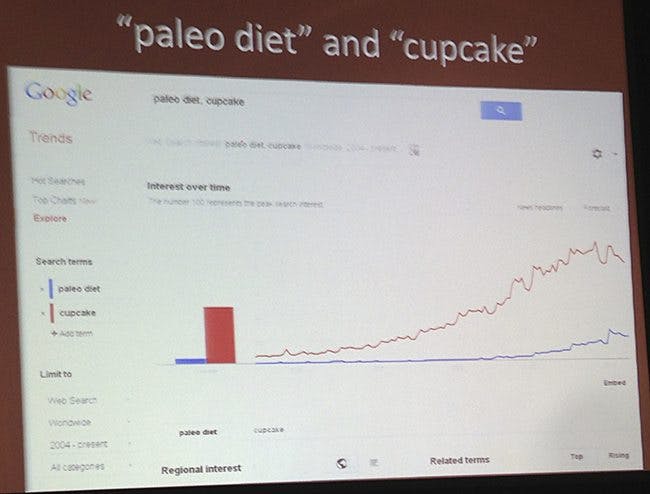 I'm at the Ancestral Health Symposium in Atlanta at the moment. It's the Paleo conference of the year.
One of the highlights of the first day was the new lecture by Hamilton Stapell, Ph.D., called "The End of Paleo". He argues that Paleo will remain a fringe movement and never go mainstream, for many reasons.
I tend to agree, although I hope that some of the most important components will go mainstream (e.g. that excess sugar and flour is bad for our weight and health).
And perhaps there is some cause for celebration. Stapell showed the slide above, demonstrating that Google searches for "paleo diet" worldwide trails the searches for "cupcake".
Statistics should always be taken with a grain of salt though. It's all about how it's presented.
Paleo vs Cupcake in the US
I checked searches for "paleo", not the smaller more specific search "paleo diet". And I checked the US, as the discussion was mostly regarding whether Paleo could go mainstream in the US.
Good news! Paleo beats cupcakes!
More
You can see Stapell's lecture from last year's AHS conference online. It's great:
The Paleo Movement of a Hundred Years Ago