Why nutrition is so confusing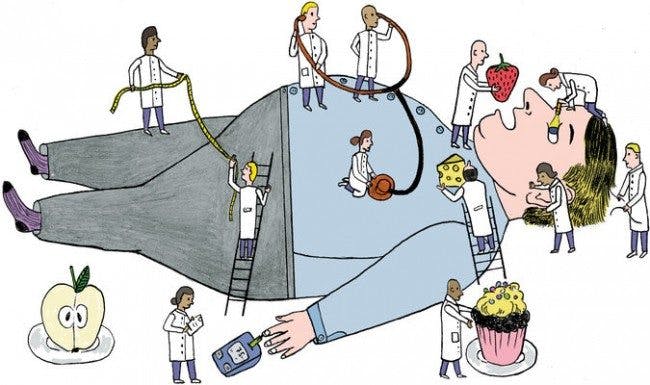 Why is nutrition so confusing? Why do some say "eat more bread and less butter", while others say the exact opposite? Why does a third group say that it doesn't matter, as long as you eat less of everything?
Here are two good answers. Which one do you believe?
Answer #1
According to science writer Gary Taubes's new opinion piece in The New York Times there's a simple explanation. We don't know because we've been too lazy and cheap to do what is needed to find out the truth. We just pretend that we know.
NYT: Why Nutrition Is So Confusing
Go ahead and read the opinion piece, which is unusually short and concise coming from Gary "640 pages" Taubes, but well worth reading as always.
Answer #2
Taubes's opinion piece sent another profile in the nutrition field ballistic (again). Read his response for a – confusing – opposite voice in the debate:
Dr Katz: Diet, Weight, and Health: Confused Only If You Want To Be!
Dr. Katz (long since a proponent of a mostly vegetarian diet, preferably low in fat) has many good points, such as that whole, unprocessed foods would be a good start. But he continues to rest comfortably on uncertain statistics – observational data – and ridicules Taubes's wish for high quality studies on nutrition (RCTs).
We don't need any RCT studies to prove that a gunshot wound to your chest is dangerous, Katz claims. Which is true. But which diet is healthful in the long run is a much harder question, for which the answer is not as obvious. Here we're stuck in preconceptions, that easily lead us the wrong way. Something that Taubes happily admits.
Katz's defense of previous recommendations of a low-fat diet sounds desperate. Everyone should have known, he says, that the advice to eat less fat meant to replace the fat with vegetables, such as "kale" – not more cookies.
He puts it bluntly: People have themselves to blame if they eat too much!
I think Katz is wrong. When people heard the advice "eat less fat" they heard "eat less fat". Less fat in food makes it less satisfying. And when you're hungry, you're an easy prey to tempting cookies. Kale? Not so much.
What do you think?
Who's right? Katz, Taubes, both, or none of them?
More
Toxic Sugar: Fantastic Video on the Obesity Epidemic!
Why We Get Fat – Interview With Gary Taubes
The Margarine Giant Gives Up: Butter Wins