Why we should NOT bother preventing diabetes

Here's why one person dies every 6 seconds from diabetes type 2. The ignorance and perversion in the system is rarely this obvious.
During the world diabetes congress in Canada this week there was a debate on whether we should "bother" trying to prevent diabetes. An epidemic that is now affecting 415 million people around the world (up from 30 million in the 80s) – threatening to bankrupt the economies of entire countries.
Apparently the organizers did not think staging this debate was in poor taste.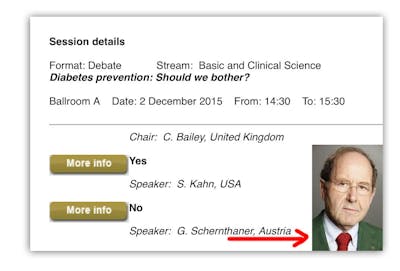 So, who argued for "no, let's not bother helping humans"? Professor Guntram Schernthaner.
Professor Schernthaner is also on the payroll of Amgen, AstraZeneca/Bristol-Myers Squibb, Boehringer Ingelheim, Eli Lilly, GlaxoSmithKline, Merck Sharp & Dohme, Novartis, Novo Nordisk, Sanofi-Aventis, Servier and Takeda. All companies selling drugs for treating diabetes.
Let's not bother preventing diabetes. If we don't, hundreds of millions of people will die painful deaths and the health care systems of entire countries may crash. But the more people get the disease, the more these companies will profit. And the more their pet doctors will be paid.
PS
The correct topic for the debate would have been: "Why are our diabetes prevention attempts failing so badly? Are we doing this completely wrong?"
And the correct answer would be yes.
Earlier
"Thanks to LCHF, I Reversed My Type 2 Diabetes and Life Is Good Again"
"I'll Introduce Myself as an Ex-Diabetic From Now On"
Sugar Clinics Helping Mexico Control Diabetes Epidemic – Or Do They?
Type 2 Diabetes Reversed After 26 Years of Insulin Dependence!
How to Reverse Diabetes and Lose 93 Pounds Without Hunger
Diet Coke Helps Weight Loss More Than Water, Media Reports – Based on Coca-Cola Funded Report