A new record number of visitors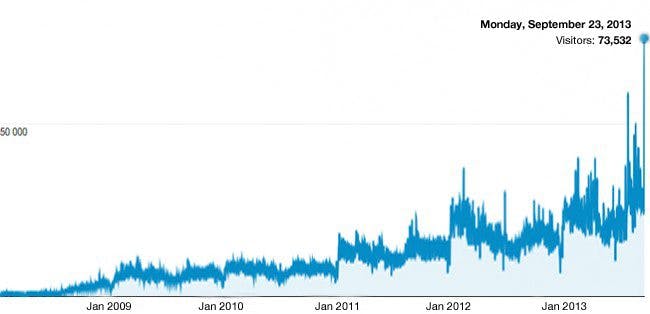 The interest in the food revolution just keeps increasing.
The Swedish government agency SBU (Swedish Council on Health Technology Assessment) released their expert inquiry last week, including the conclusion that a low-carb diet produces more rapid weight loss – and better health markers!
This was a historic day, that will certainly have an impact on the future treatment of obesity in Sweden. As a bonus the news produced a major visitor record for my Swedish blog: over 73,000 visitors in one day. Not bad in a small country!
Above you can see the number of daily visits to Kostdoktorn.se since the start in 2007. The number of visitors is increasing and the website is already one of Sweden's most read blogs, all categories included. But I think this is just the beginning.
More and more people are spreading the knowledge. Together we'll make great things happen. In Sweden, and around the world.