What makes low carb hard?
What makes
low carb
hard? We asked our members and got almost 2,000 replies. Here are the results: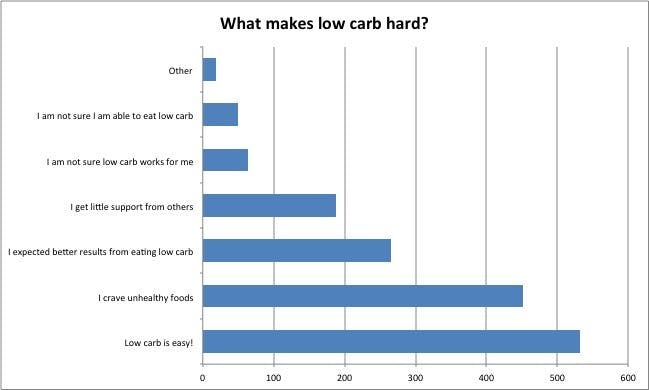 From the answers above you can see that many people don't find low carb hard at all – that's great!
For members who find low carb hard, the three main reasons are cravings, becoming discouraged due to a lack of results and too little social support. Here's what can be done about those issues:
Overcome your obstacles
1. Carb cravings
There are three things you can do today to start combating your cravings:
First, we encourage people to clean out their pantries of carb-rich foods, and fill up on enough fat in order to keep hunger and cravings at bay.
Secondly, is it possible that there is an underlying sugar addiction that undermines your low-carb diet? We offer a video course about this problem:
MEMBERS ONLY

MEMBERS ONLY

MEMBERS ONLY
Third, join a
Facebook group
for people suffering from sugar addiction. It's great to know that you're not alone in your struggles, and it's good to get support from others.
2. Lack of results on low carb
We encourage people to (re-) visit our page with the most important tips for losing weight.
Have you tried intermittent fasting? It's usually a turbo-charger for any low-carb diet.
Are you unsure if you're doing low carb right? Consider signing up for our free 2-week keto low-carb challenge!
3. Too little social support
Once again, for social support we recommend connecting with others by joining a low-carb group on Facebook or other social media.
Are there other things you can do to make low carb simpler? Please leave a comment below.
Try the membership
Do you want more help with making low carb simple? Diet Doctor is free of ads, products for sale, and sponsorships. Instead, we're 100% funded by the people through our optional membership.
Do you want to check out our 190+ low-carb videos and ask our experts your questions? Try the membership (free for 30 days).
Most popular low-carb basics videos