Low-carb meal plans
Quick and easy
Do you need a simple low-carb meal plan that requires little-to-no cooking time? We understand that your time is precious, so we've curated our most popular quick and easy low-carb meal plans below. Most of the recipes take 30 minutes or less to cook or prepare. Dig in!

Moderate low-carb meal plans
A moderate low-carb diet restricts carbohydrate intake without being as restrictive as the keto diet. With our low-carb meal plans, you'll have more flexibility to decide how much you want to restrict your carbs. We recommend that people who follow a
moderate low-carb meal plan
stay between 20 to 50 grams of carbohydrates per day.
One of the primary reasons you may consider a low-carb diet plan is to support weight loss — but a low-carb diet plan is also beneficial for reducing the risk of diabetes and metabolic syndrome. Others may decide to start a low-carb diet to help eliminate inflammatory sugar from their diet and focus on consuming more whole and nutrient-dense foods to support overall health.
DD+ MEMBERSHIP
Would you like to spend as little time in the kitchen as possible but still want to lose weight while enjoying delicious food? We've got you!
These quick and easy recipes are loaded with flavor and have everything you need to feel great inside and out.
Our high-protein meal plans are specially tailored for effective and healthy weight loss. They will provide you with the maximum amount of nutrients per calorie, often resulting in rapid fat loss while sustaining muscle mass due to the high-protein content.
---
Here's a fabulous one-week meal plan specially created for working parents who are juggling careers while raising their children. The menu includes kid-friendly dishes like cinnamon cereal, pancakes, pizza casserole, and cheesy enchiladas. Each recipe is simple and delicious and most can be prepared ahead and served quickly. No extra stress on those busy days!
---
Hearty homemade meals in under 30 minutes. Is that possible? Yes, this week's meal plan offers delicious meals that you'll have on the table in half an hour or less. Enjoy a variety of meals while staying below 35 grams of carbs per day.
---
Don't feel like much of a chef but still want to serve and have healthy homemade meals? This is the meal plan for you! Boost your confidence in the kitchen with these delicious and easy-to-make recipes that help you stay below 25 grams of carbs per day.
---
Do you love food that looks and tastes gourmet, but is in fact super simple to cook? Who doesn't? Well, we have the perfect low-carb meal plan for you. It's easy to make, yet fancy, too. To make it even simpler, you'll be skipping breakfast on weekdays.
What's on the menu? Creamy chicken dishes, flavourful cod, and a delicious, classic — but of course low-carb — beef stroganoff. On the weekend you'll indulge in a nut-free keto bread that's great for toasting. Bake the whole bread, use what you want, and then freeze the rest. It will also keep in the fridge for four or five days.
This meal plan keeps you below 32 g of carbs per day.
---
This is the perfect meal plan for weeks when you want healthy home-made meals but don't want to spend a lot of time cooking. This low-carb meal plan will keep you below 38 g of carbs per day with meals that take 30 minutes or less to prepare.
---
---
Not yet a member?
Sign up for a FREE one-month trial
, and you'll get instant access to our meal planner tool and collection of keto meal plans. This includes plans that are dairy-free, vegetarian, designed for intermittent fasting, budget-friendly — as well as those that are quick and easy to prepare.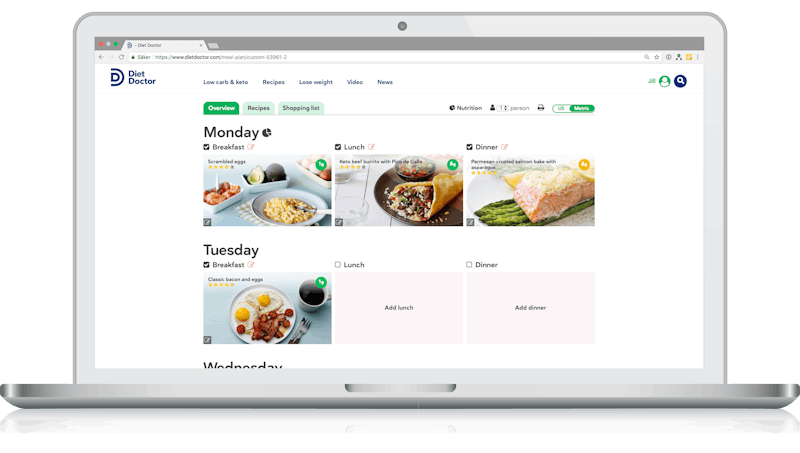 Meal plans include practical shopping lists. You can also tailor your own meal plans using any of our 300+ keto recipes and save them for later.
Try membership for free
Already a member? Log in