Low-carb meal plans
Enjoy delicious meal plans & lose weight without hunger
Meal planner tool
With our premium meal planner tool, we do the planning while you focus on cooking, eating, and enjoying healthy food.
1. Chose or create a meal plan
Follow our 180+ meal plans as they are — or customize your meals each week by choosing from our catalog of 1,000+ recipes.
2. Get your weekly groceries
With our meal plans, you only have to shop for groceries once a week. Our practical shopping lists can save you both time and money.
3. Enjoy your delicious meals
Our meal plans make cooking a joyful experience. Use your mobile device to watch our cooking videos and follow recipes.
Easy to customize
Follow our meal plans as they are — or customize your meals each week by choosing from our catalog of 1,000+ recipes.
We have tons of meal plans and recipes that are budget-friendly, with 5 ingredients or less, dairy-free, family-friendly — and so much more!
The best part? You can swap meals and recipes to make them suit your lifestyle even better.
Start your FREE trial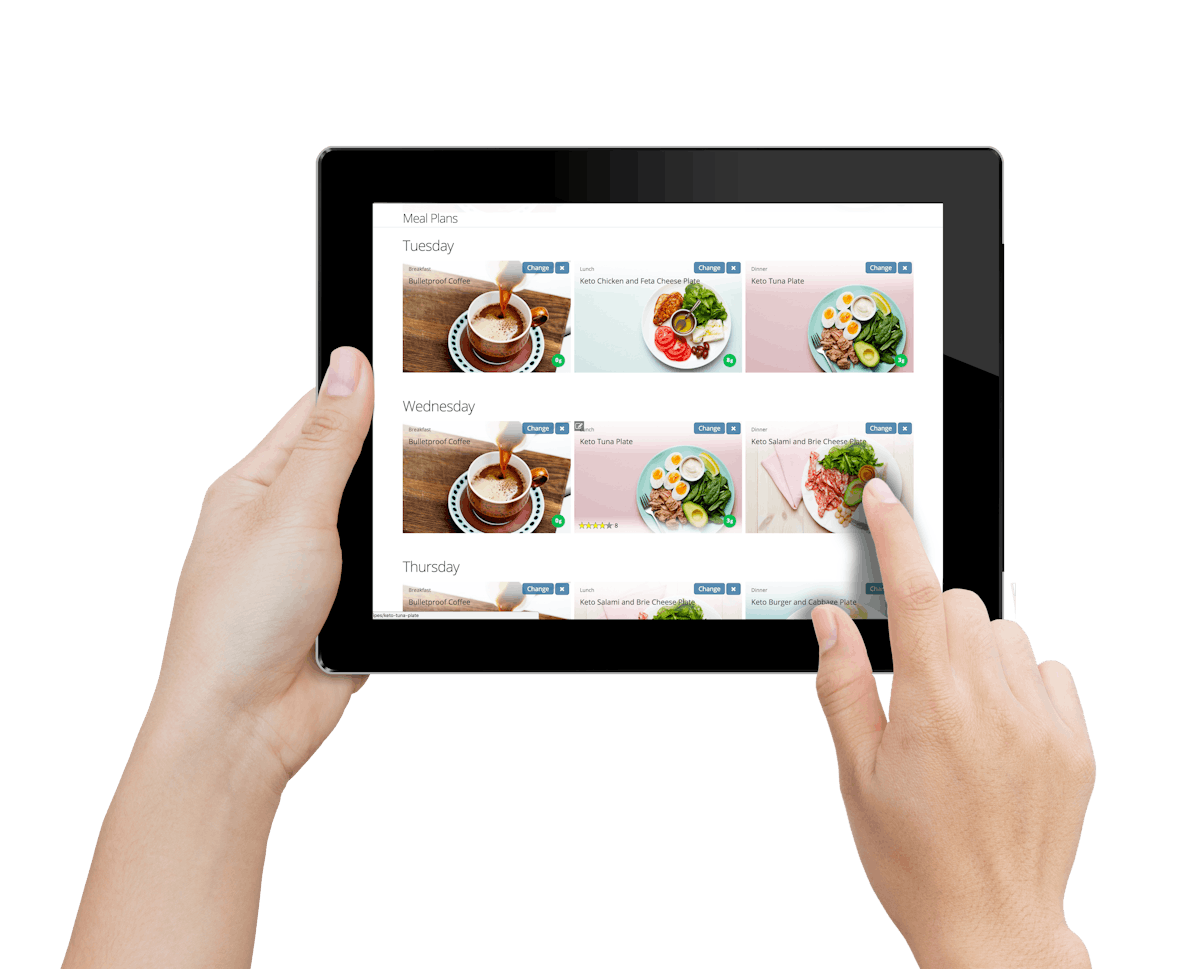 We've planned your breakfast, lunch, and dinner…
Get our most recent meal plan and shopping list, through our exclusive meal planner tool (
free trial
).
Haven't downloaded our mobile app yet?
Now is a good time. Download Diet Doctor Eat, and use your meal planning tool directly on your phone. Access all 180+ meal plans, 1,000+ recipes, your saved favorites, and shopping lists — anywhere, anytime.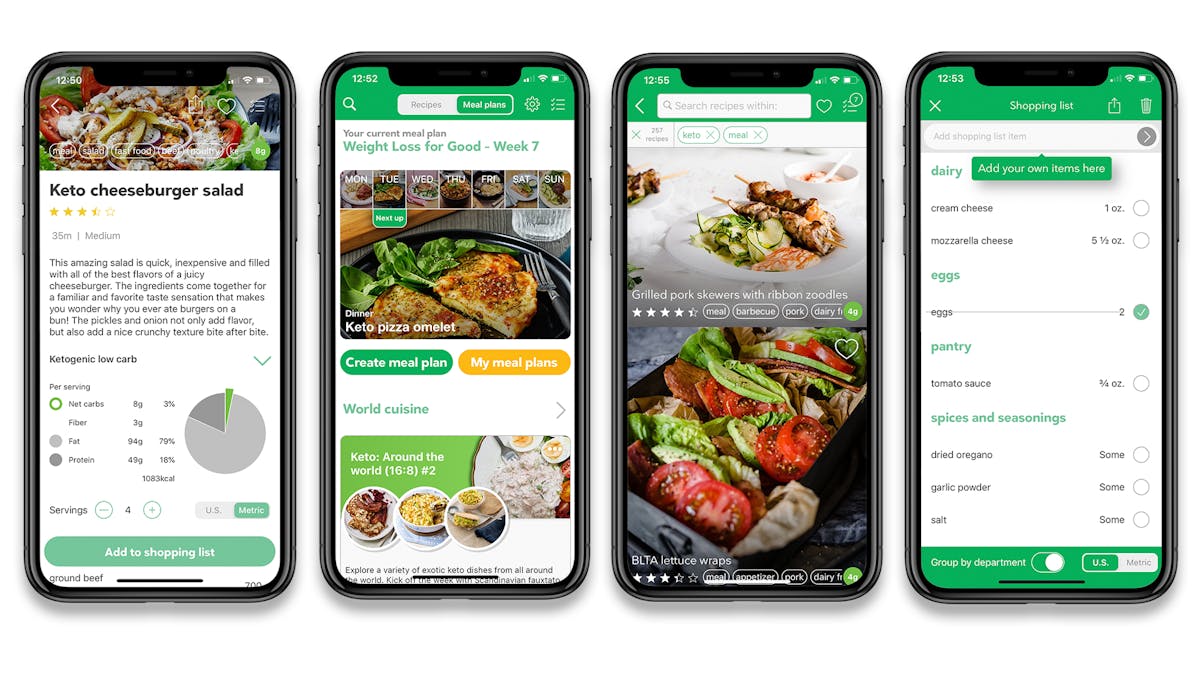 Our latest meal plans
The meal plans below is available through Diet Doctor Plus. Not a member? Sign up for a FREE 30-day trial to get all our meal plans and many other membership benefits. After the free trial ends, it's only $9.99/month or $99/year.
Quick & easy
Minimal or "no-cook" meals you can prepare in 20 minutes or less.

Are you tired of complicated recipes, odd ingredients, and long shopping lists? Well, with this week's 5-ingredient meal plan, keto has never been easier or more delicious.
With just a few ingredients, plus some basic pantry items, we have put together this convenient ketogenic meal plan, which is as kind to your wallet as it is to your waist.
Start your FREE trial
Low-carb on a budget
Simple recipes and affordable ingredients that are super delicious and healthy. Here you'll find some more tips on how to enjoy
low-carb on a budget
This week's meal plan really has it all! It's fresh, varied, filling and also affordable. It will help you stay below 30 grams of carbs per day.
Start your FREE trial
Family-friendly
Simple and yummy recipes that the whole family will love.

This vibrant and flavorful meal plan is packed with keto meals that the whole family will enjoy. Everything from amazing keto salads like my mouthwatering keto cheeseburger salad and Naomi's keto chicken pesto zoodle salad to keto pizza and bacon-wrapped hamburgers.
This meal plan will keep you below 18 g net carbs per day.
Start your FREE trial
Dairy-free
Excluding dairy from your diet can be an effective way to speed up your weight loss and help to reverse type 2 diabetes.

Could dairy products be slowing your weight loss or holding you back from your potential health gains? Try a week of dairy-free meals and see.
This meal plan also introduces intermittent fasting (16:8), meaning you'll skip breakfast each day. These two dietary adjustments can speed up weight loss, help to reduce insulin resistance, and can potentially result in the reversal of type 2 diabetes.
With this meal plan, you won't go hungry. You'll enjoy protein-packed meals, such as Diet Doctor's flavorful keto chicken garam masala, succulent pulled pork, and keto crispy Chinese pork with cabbage.
This meal plan will keep you below 17 grams of net carbs per day.
Start your FREE trial
Vegetarian
Fabulous lacto-ovo vegetarian meal plans. Lacto-ovo means avoiding meat, poultry, and fish while allowing vegetables, nuts, eggs, and dairy.
Here's a week-long meal plan filled with keto-friendly lacto-ovo vegetarian dishes. This is the fourth meal plan in a series of keto vegetarian meal plans.
It includes three hearty meals per day and will keep you under 20 grams of carbs per day. This week, you're going to eat zucchini pizza boats, goat cheese salad with balsamico butter, and chaffles — among other tasty, filling keto meals. Delicious!
Start your FREE trial