Low-carb alcohol – the best and the worst drinks
What are the best and the worst alcoholic drinks on a low-carb diet? First the obvious: Alcohol is not a weight-loss aid. The more alcohol you drink, the more weight loss may slow down, as the body burns the alcohol before anything else.
With that said, there is a huge difference between different kinds of drinks – some are pretty ok, some are disasters.
The short version: wine is much lower in carbs than beer, so most low carbers choose wine. Pure spirits like whiskey and vodka contain zero carbs, but watch out for sweet drinks – they may contain massive amounts of sugar.
For more detail check out this guide, the lower-carb options are to the left.
Wine and beer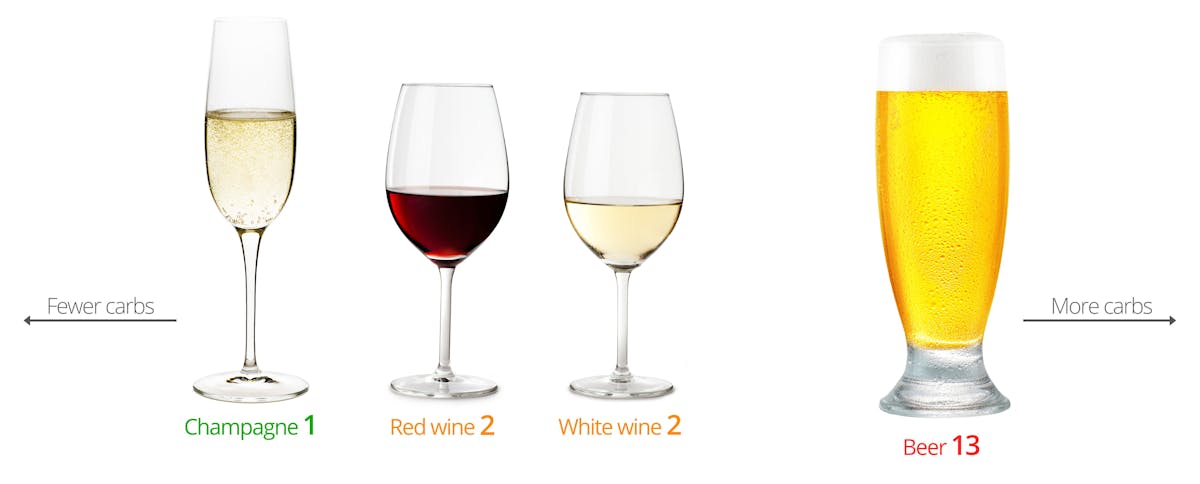 The numbers represent grams of carbs per a typical serving – for example one glass of wine or one draft beer.
Wine
Even on a strict low-carb diet (below 20 grams per day) you can probably have a glass of wine fairly regularly. And on a moderate low-carb diet, wine is not a problem.
Please note that dry wines contain less than 0.5 grams of sugar per glass. The other carbs constitute miscellaneous remains from the fermentation process, like glycerol, that should have a minimal effect on blood sugar or insulin levels. Using the number 2 grams of carbs per glass of dry wine is conservative. All dry wines fit well within a low-carb diet.
Sweet dessert wines, however, contain a lot more sugar.
Beer
Beer is a problem on low carb. There's a reason people talk about "beer bellies". There are tons of rapidly digestible carbs in beer – it's been called liquid bread. For that reason, unfortunately, most beers are a disaster for weight control and should be avoided on low carb.
Note that the amount of carbs in beer vary depending on the brand. There are a few possible options on low carb. Check out our low-carb beer guide below for details.
Spirits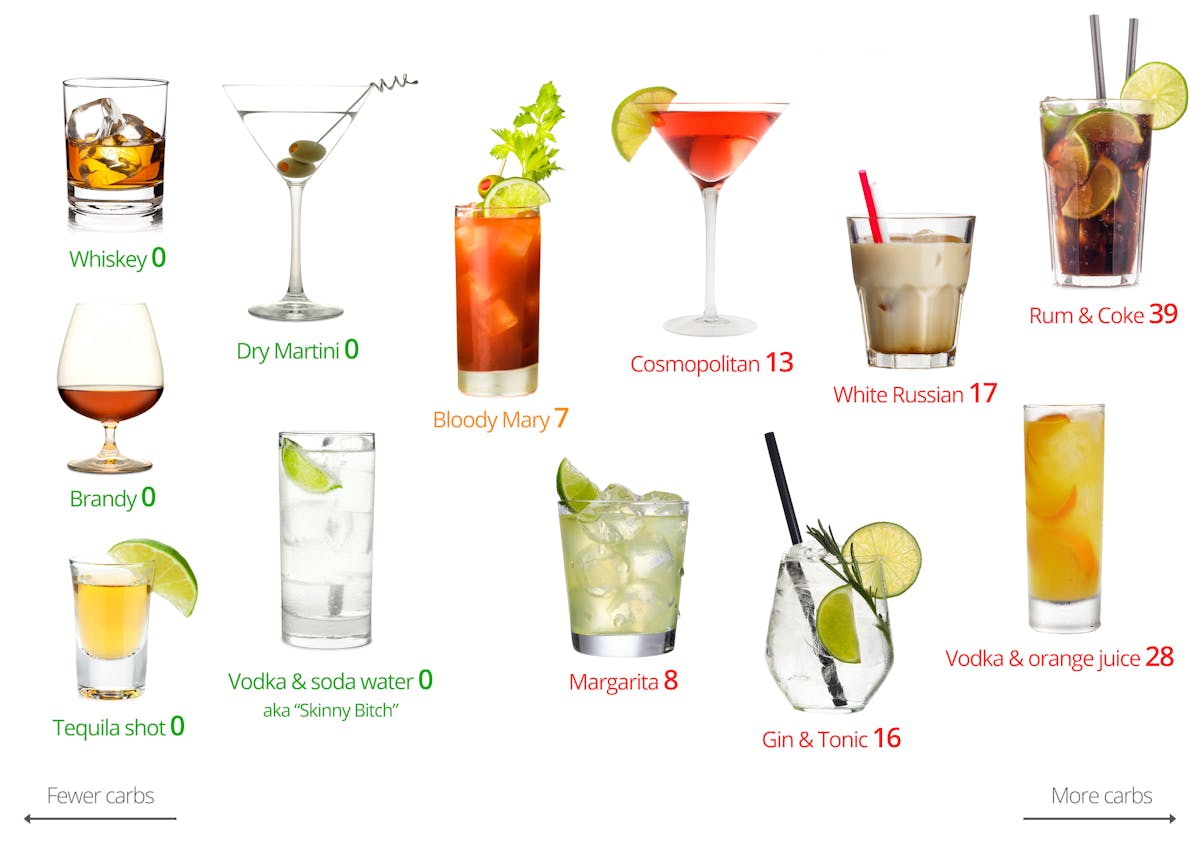 The numbers represent grams of carbs per drink, e.g. what you'll get if you order one in a bar.
When it comes to drinks, it's pretty straightforward. Pure spirits like whiskey, brandy, cognac, vodka, tequila contain zero carbs and they are all fine on low carb.
However, avoid sugar-sweetened drinks. Note that the popular drink Gin & Tonic is full of sugar, 16 grams – a common mistake on low carb. Switch to vodka, soda water and lime instead, and you'll have zero carbs.
The worst option of all is to mix alcohol with soda or juice, this will be a sugar bomb.
Alcopops / wine coolers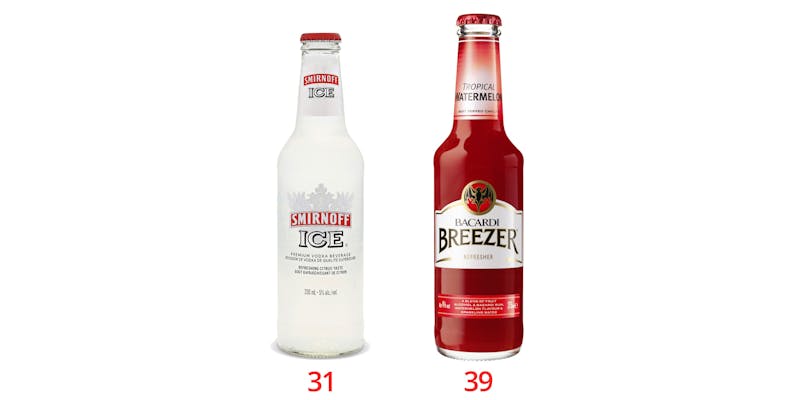 The numbers represent grams of carbs (sugar) per bottle.
So, what about alcopops / wine coolers? They're just like regular soda with alcohol in them, and should be avoided by everyone who wants to avoid drinking massive amounts of sugar.
Low-carb beers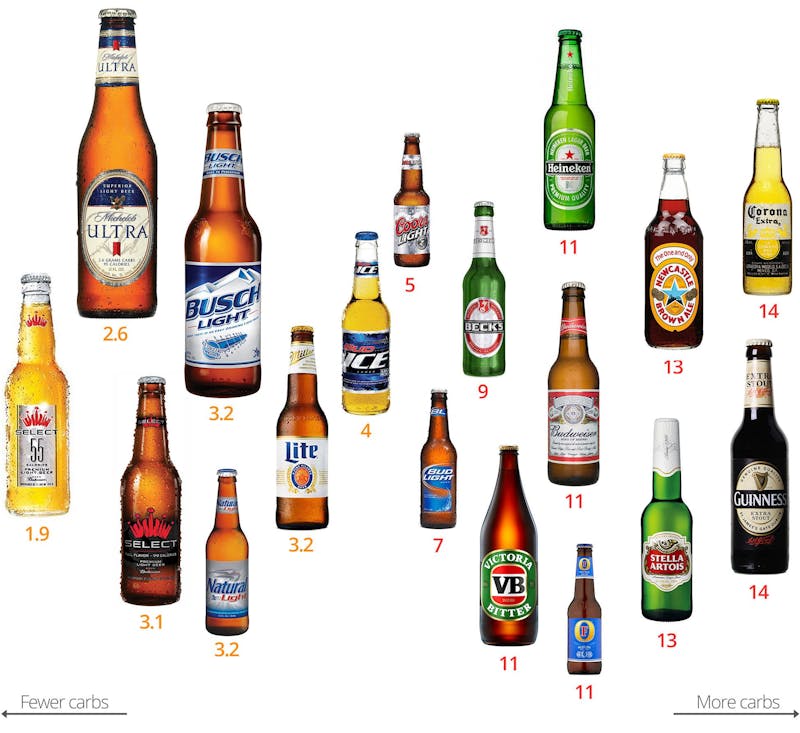 The numbers above are the grams of carbs in one 12 oz. bottle of beer (355 ml).
There are huge differences between different brands, but most contain too many carbs to fit a strict low-carb diet. Even on a more liberal diet it would be wise to keep beer drinking as an occasional thing.
The exception is very light American beers. Many of them contain few carbs, so if you like them you are in luck. Check out the brands to the left in the graphic above.

Top 5 low-carb alcoholic drinks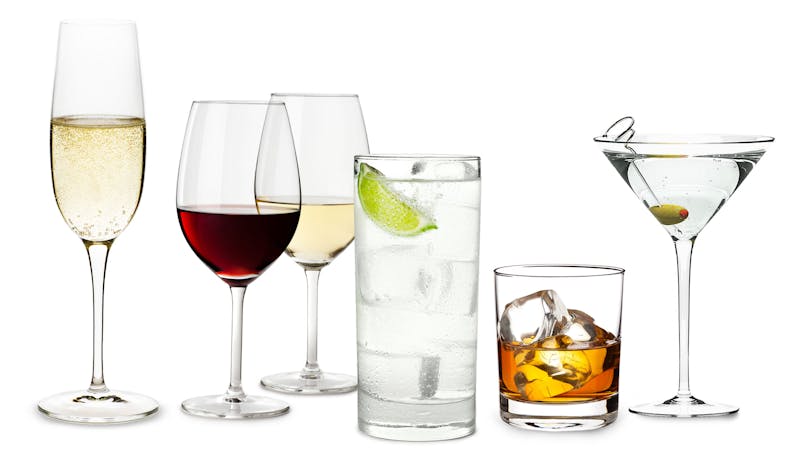 On a low-carb diet, you can still enjoy a delicious drink or two on special occasions. Even though many alcoholic drinks contain a lot of sugar, there are still some really good low-carb options. Here's our list of the top 5 low-carb alcoholic drinks.

Champagne or dry sparkling wine – one glass contains about 1 grams of net carbs.

Nothing says celebration like a glass of bubbly! Although Champagne can be very expensive other kinds of sparkling wines or Cava come in a variety of prices and can be enjoyed as an aperitif, with your food or as a stand-alone drink.

Dry wine – red or white – one glass contains about 2 grams of net carbs.

There must be a reason why humans have been drinking wine for thousands of years. One of them is probably that it tastes really good with food. Ben Franklin even called wine "constant proof that God loves us". Fortunately, drinking an occasional glass of dry wine is fine on a low-carb diet.

"Skinny Bitch" – one long drink contains 0 grams of carbs.

Skinny bitch is the drink for you if you want to skip sugar and artificial sweeteners. This sparkling long drink with vodka, soda, lime and ice tastes way better than it might sound.

Whiskey – one drink contains 0 grams of carbs.

Even though whiskey is made from various forms of grains, it's zero carb and gluten free. It comes in many different classes and types. Too much ice can kill the flavor but serving it with a little dash of water can actually enhance the flavor.

Dry Martini – one cocktail contains 0 grams of carbs.

The iconic James Bond cocktail is made with gin and vermouth, and garnished with an olive or a lemon twist. It's still in the top of the most requested drinks. But make sure to order it shaken, not stirred.

Return to the top of the low-carb alcohol guide


A word of caution
When on a strict low-carb diet, most people need significantly less alcohol to get intoxicated. So be careful the first time you drink alcohol on low carb. Possibly, you may only need half as many drinks as usual to enjoy yourself. Low carb will save you money at the bar.
The reasons for this common experience are still unclear. It could be because the liver is busy producing ketones or glucose, and thus has less capacity to spare for burning alcohol, slowing down the process.
Obviously. if you're going to be driving be extra careful. Don't ever drink and drive. On low carb this may be even more crucial.
Learn more surprising facts about keto low-carb diets and alcohol here:
Similar low-carb guides
Meal plans