Low carb bread: Another fairy tale bites the dust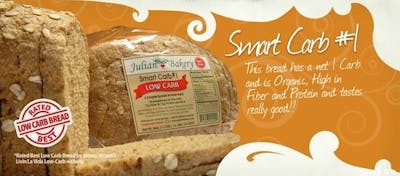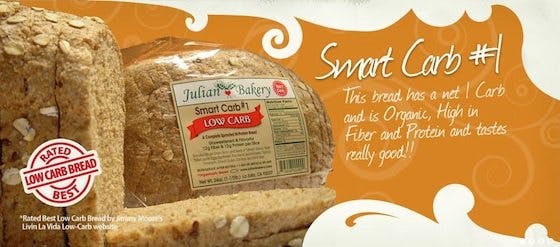 The market is full of unlikely claims about low carb versions of bread, pasta and chocolate. I see no reason to take these marketing claims at face value. Like the debacle with Dreamfields fraudulent "low carb" pasta shows, these claims do not necessarily have anything to do with reality.
Next up for testing: Julian Bakery's delicious Smart Carb bread.
The marketing
Interestingly the Smart Carb #1 bread is baked on whole grains, yet it is claimed that only 1 gram out of 13 grams of carbs are digested. Sound familiar?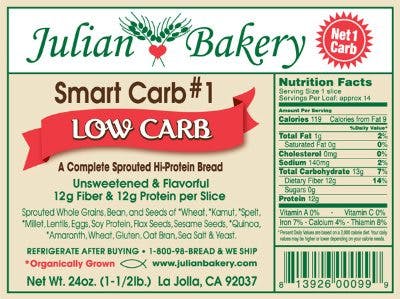 The words "Net carb" on the packaging is enough to make me suspicious. "Net carb" usually means that someone is trying to sell you stuff by telling you a fairy tale.
Is Julian Bakery's bread an exception?
Jimmy Moore's n=1 experiments
Jimmy Moore took the challenge and tested the bread in different ways. Not surprisingly his blood sugar went straight up, even though he ate the bread with coconut fat and cheese.
Like the decent man he is, mr Moore allowed a marketing guy from Julian Bakery to respond. Amazingly that guy blamed the cheese, and claimed that the minimal amount of lactose was the problem. Their bread couldn't be the reason. That sounds a bit… unlikely.
Anyway, Jimmy Moore did a new test, eating only the bread and nothing else. This is the result on his blood sugar: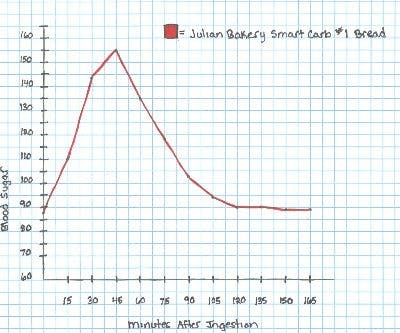 Without the cheese the effect of the "Smart carb" bread was even more drastic… exactly the way usual bread acts.
Smart Carb bread FAIL
This is just another confirmation of what should be obvious. If it looks like bread, feels like bread and tastes like bread, that means it is bread. Bread made from grains turns into glucose in your gut, raises your blood sugar and can lead to weight gain.
Lots of people still want to believe that they can eat "Low Carb" bread without the problems of other bread. They will say that experiments by one man proves nothing, that everybody has to test every new product for themselves to see.
To that I say: bollocks. Test for yourself, sure, why not. But if you blindly believe in the "Net Carb" marketing that means you're living in fantasy land. If you keep having a weight problem it may be time for a reality check.
Better health and weight loss is achieved by eating real food low carb. Not by eating fake LC products.
More
The problem with low carb in America