Pasta keeps you slim according to bizarre study by Barilla – fools major media
Can pasta make you slimmer? Probably not, but after a whole lot of statistical magic from a new study (partially funded by a pasta company), the answer becomes yes.
Lots of media outlets happily publish this Barilla-funded click-bait, apparently without actually looking at the numbers in the study:
Just one tiny problem. The study data showed the opposite. Obese people – both men and women – ate more pasta! Thin people ate less pasta.
So how come the conclusion of the study and the media headlines say the exact opposite? Well the researchers made some "adjustments" to the data.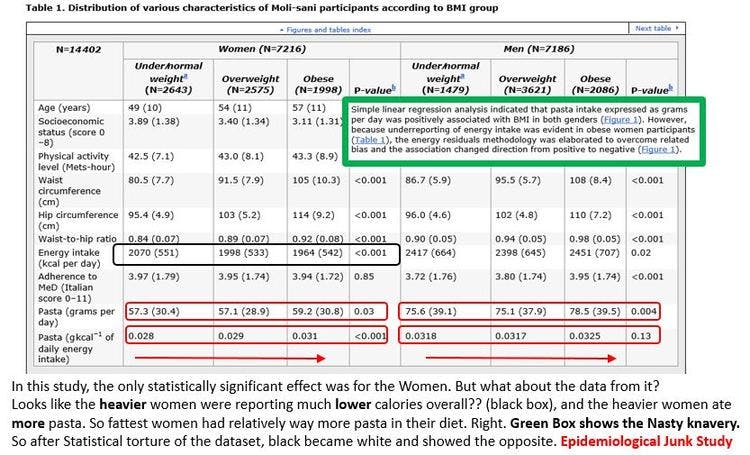 The researchers basically assumed that the participants must be lying and
changed black into white
(see the study data to the right) using their statistical tools. And thus, even though obese people ate more pasta in the study, the bizarre conclusion became that pasta protects from obesity.
Interestingly the actual study mentions "no conflict of interest". But the pressrelease (in Italian) tells another story: The study was "partially supported by Barilla", a company selling pasta.
Surely it must be a complete coincidence. Probably the researchers were not at all influenced by pasta money when they used statistical magic to turn the study's finding around to the absolute opposite of what the data originally showed.
Of course, should you not trust this piece of Barilla-funded statistical shenanigans, you can just read the original data: Obese people reported eating more pasta. Thin people reported eating less pasta. End of story.
The latter is the only correct conclusion if you ask me. Lots of major media companies are left with pasta on their faces, after being fooled by this Barilla trick.
Want to try eating less pasta?
Interview with the Fat Emperor
More