It's back! Our popular holiday gift magazine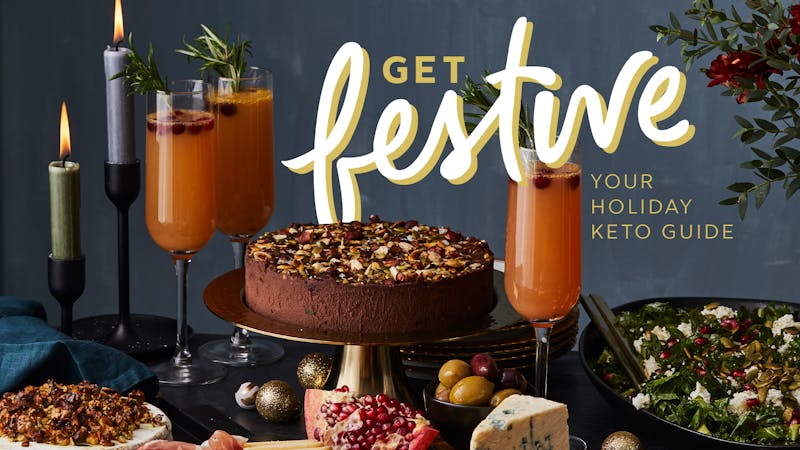 Great news! Our seasonal holiday e-magazine from 2019 has been updated and is now being re-released.
If you were a Diet Doctor member last year, you may remember that just before US Thanksgiving 2019 we debuted a beautiful, inspiring seasonal e-publication! The Diet Doctor Plus: Get Festive — Your Holiday Keto Guide was our first digital magazine promoting a healthy, keto-friendly holiday season. It turned out to be incredibly popular.
Well, since November 2019 we have nearly 17,000 new members who haven't yet seen this downloadable, flippable publication. Now, it is available again as a gift exclusively for all Diet Doctor members.
Of course, 2020 Christmas and New Year's will be different than last year for most of us. We never could have anticipated a global pandemic dominating the past year — or this holiday season.
So we did a few small updates of the 2019 magazine to keep it in line with likely smaller gatherings and Covid-19 realities. The world has changed, but good keto food, support, and keeping healthy is more important than ever.
The magazine gives tips and tricks on how to stay keto and low carb from Thanksgiving through New Year's. Plus, Get Festive — Your Holiday Keto Guide is full of fun features, sidebars, gift ideas, and of course, seasonal recipes from the Diet Doctor kitchen.
We have fabulous appetizers of stuffed mushrooms, oven-baked cheese spreads, warm and spicy mulled wine, and much more. Then, we highlight the best Thanksgiving and Christmas side dishes like browned butter cauliflower mash, low-carb stuffing, and low-carb pumpkin pie.
Some of the most-loved recipes were tasty new creations last year by Jill Wallentin, our head of recipes, and recipe creator/keto influencer Kristie Sullivan. They included a seasonal kale and goat cheese salad, cheesy pull-apart bread, a hearty sausage-crusted quiche, and a decadent no-bake chocolate cake.
How about low-carb gifts? We've got pumpkin spice cookies, low-carb chocolate truffles, seed crackers, and paté. They all make tasty presents even for non-keto friends and family.
Worried about navigating the holidays and festive traps? Kristie teams up with our medical director, Dr. Bret Scher, to provide tips for holiday conundrums, like what to do if you've got the winter blues and craving carbs, or how to say no to loved ones who push high-carb foods.
Last but not least, we share some of our own time-tested holiday tips and traditions, where you get a look at how we manage the holidays ourselves. It's a behind-the-scenes glimpse at what works for some of us at Diet Doctor.
We are so happy we can share this special publication with you once more. We hope you'll be inspired.
This magazine wouldn't be possible without your generous support. Thanks to all of our members for making this happen.
More