Your iPhone gives you cancer – but protects you from malaria!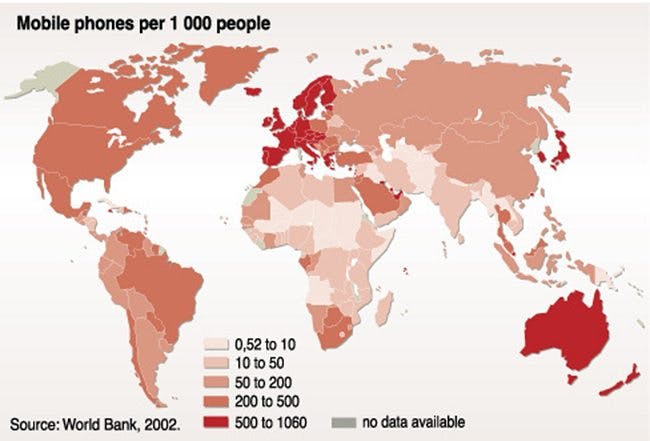 *** Warning – irony below! ***
Do you have an iPhone? Beware: according to new studies, having an iPhone increases your risk for breast and prostate cancer!
However, your iPhone will protect you from infectious diseases like tuberculosis, malaria and HIV. Hence, you don't need to take malaria prophylaxis when traveling with your iPhone.
The above has been proven in many new scientific studies on cell phone habits among millions of people around the world. The map above is one example. Areas with many cell phones show an increased risk for cancer, while areas with few cell phones show an increased risk for malaria and certain other infections.
Paradoxes?
South Africa is tragically hard hit by HIV, despite many cell phones. This is the "South African Paradox". Researchers speculate that perhaps wine drinking offers protection.
Statistical correlations don't prove causation
NOTE: The above is of course pure nonsense. This kind of statistics can't prove that the iPhone causes cancer or protects against malaria.
Unfortunately, many "experts" in the health debate lean on such statistics. The difference is that they express themselves in such a way that people take them seriously.
The most common type of studies on lifestyle and health is almost as unreliable: it's only statistics based on questionnaires.
If you see a health alert in the tabloids based on "researchers followed X thousand people during X years" please remember: this is speculation based on statistics, not evidence.
Previously
Eggs, Smoking and Silly Health Scares
Meat, Pseudoscience and Why People Who Eat Their Placebo Are Healthier
Do Unhealthy Meat Eaters Live Shorter Lives?
Stunning: Saturated Fat and the European Paradox
Do Carbs Protect Against Diabetes in Finland?