"I highly recommend the keto challenge to anyone who is curious about a keto diet"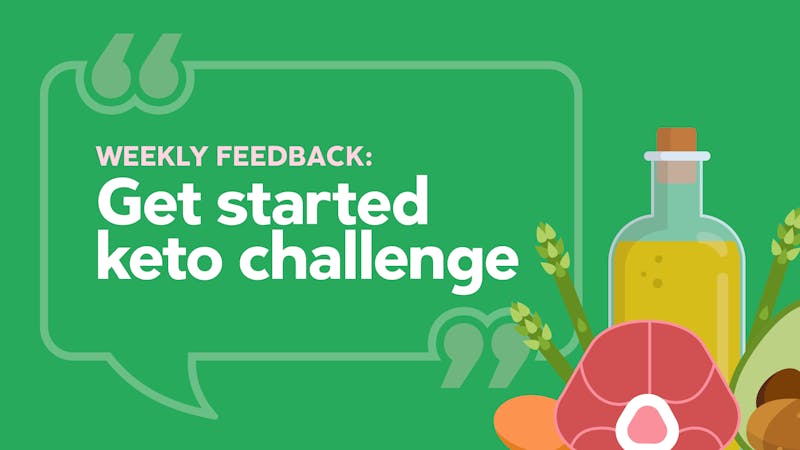 Over 895,000 people have signed up for our free two-week keto low-carb challenge. You'll get free guidance, meal plans, recipes, shopping lists and troubleshooting tips – everything you need to succeed on a keto diet.
Here are new inspirational stories from people who have taken the challenge:
Feedback
Hi,

I'm Orini from Auckland, New Zealand. I have really enjoyed the challenge. The food was delicious and satisfying and the support emails were helpful and motivating.

Tips about drinking bouillion were very helpful to ride out mineral loss and keto flu symptoms. The video course is also excellent for understanding how keto actually works.

I'm now doing the 5-week keto challenge, looking forward to that!

Keep up the great work team Dr. Diet Doctor.

Kind regards,
Orini

---

Hello,

I enjoyed the 2-week keto challenge. I tackled those two weeks on to the end of eight weeks, following the keto guidelines. I am a 72-year young male, living in Michigan, USA. I averaged ⅓ pound (0.1 kg) per day weight loss over the last 70 days, a total of 21 pounds (10 kg). I am only 7 pounds (3 kg) away from my goal of 171 pounds (78 kg), which will make my BMI < 24. I love the LCHF diet and plan to stay on the regimen. Thank you for all the helpful videos. You guys are doing a wonderful job and service. Kind regards, Charles

---

Hi Diet Doctor,

I am from Cape Town in South Africa and I lost 2 kilograms (4 lbs) after your 2-week keto challenge. I just love all the fatty foods and eggs that I have been denying myself for years and never lost an ounce.

I am 68 years old have palm and planter psoriasis, now weigh 81 kilograms (179 lbs) (was 83 kg –183 lbs) and pre-diabetic… I am hopeful some of these complaints will enjoy my new diet and leave me alone!

Thank you,
Rose

---

The two-week challenge was great for me. The recipes were easy to prepare and delicious, making it rewarding to stay the course.

Having a plan to follow helped me set the tone for a new way of eating without having to think too much about it. Daily emails and reminders were like a mini cheering section in my corner.

I'm a 52-year old, nearly post-menopausal, mother of three and grandmother of two that is now putting herself first (starting with a number of healthy living choices). My sister has been keto for two years and when I finally said I was ready she sent me to the Diet Doctor website to get started.

I have 40+ pounds (18 kg) to lose and am already down 9 lbs (4 kg) after two weeks. I don't feel deprived and I think I've got the fat/protein ratios that work best for me figured out. Adding in the fat was the hardest part after 50 odd years of avoiding it.

Thank you for all you do!
Aimee

---

The keto challenge was a great introduction to the ketogenic diet. The recipes were delicious (truly!) and so simple and easy to follow. The shopping list was so helpful. I highly recommend the keto challenge to anyone who is curious about a keto diet.

Kelly
---
Get started today!
Sign up for instant access to a simple step-by-step guide to the keto challenge. You will also receive meal plans, recipes and shopping lists for two weeks. In case you have not received an email from us after signing up, please check your spam folder too!
Already signed up? Click here.
---
Success stories
Share your story
Do you have a success story you want to share on this blog? Send it (photos appreciated) to frida@dietdoctor.com, and please let me know if it's OK to publish your photo and name or if you'd rather remain anonymous. It would also be greatly appreciated if you shared what you eat in a typical day, whether you fast etc. More information:
Share your story!
Support
Do you want to support Diet Doctor and get access to bonus material? Check out our membership.
Join free for a month
Success stories
Low-carb basics
Weight loss advice