Healthy weight loss
High protein meal plans
Boost your weight loss in an efficient, pleasurable, and healthy way with these protein-packed meal plans.
Moderate low-carb meal plans
Most of these budget-friendly, low-carb meal plans will keep you below 35 grams carbs per day. They are also family friendly and great for maintaining a healthy low-carb lifestyle.
Not seeing the results you want with other keto or low-carb meal plans? Then, consider giving this higher protein plan a try.
The main difference between this meal plan and our other meal plans is that the included recipes have a higher protein percentage (more than 30%). This means the meals have a little less fat, but they are not low fat — you get to keep the butter! — and the carb count is low.
Research shows that by focusing on the protein — rather than only thinking about carbs — people often experience effective weight loss.
This highly nutritious low-carb meal plan is packed with flavorful meals, such as our famous Keto crack chicken and a delicious Italian fish stew, which will keep you nourished and satisfied.
Even though this meal plan is technically low carb, it includes a bunch of keto recipes. So, you'll stay well below 23 grams of net carbs most of the days.
Keto meal plans
These keto meal plans keep you below 20 grams of carbs per day. They are optimized for effective weight loss and blood sugar control.
This highly nutritious meal plan is designed to boost weight loss while enjoying delicious food that helps you feel full and satisfied.
These flavorful meals will provide your body with all the protein, fat, and other essential nutrients needed to be healthy.
You'll get to enjoy some of our favorite keto feasts, such as Keto cheese tortilla beef burritos and Keto Caprese chicken while staying under 20 grams of net carbs every day.
---
Losing weight has never been more satisfying or delicious. Get all of the nutrients your body needs, while enjoying dishes like Keto chicken and mushroom casserole and our Garlic steak bite salad with tarragon dressing.
Most of the recipes take less than 30 minutes to prepare and will keep you below 20 grams of net carbs per day.
---
Not yet a member?
A free one-month membership trial
is available, that gives you instant access to our amazing meal planner tool and tons of low-carb meal plans, including dairy-free and vegetarian version, meal plans adapted for intermittent fasting, quick-and-easy as well as budget keto meal plans.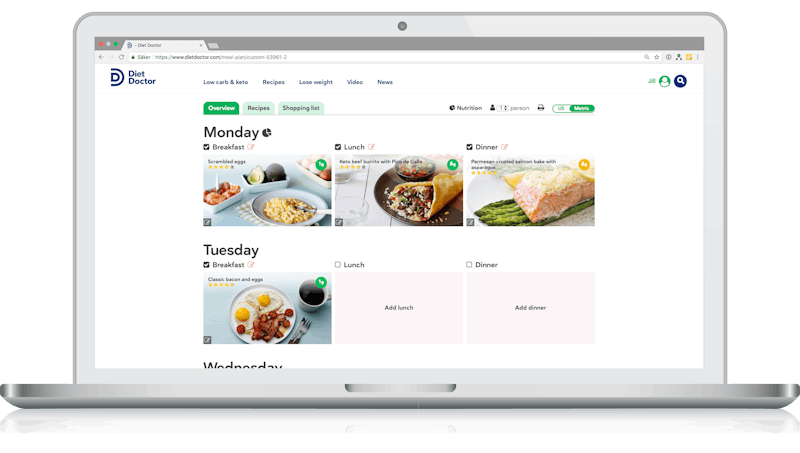 Meal plans include practical shopping lists. You can also tailor your own meal plans, using any of our 1,116 recipes, and save them for later.
Try membership for free
Already a member? Log in