Good news about obesity in New York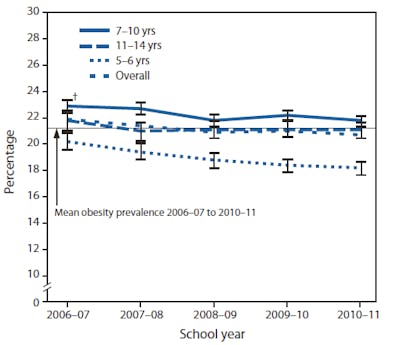 This is encouraging news. Childhood obesity rates in America have been rising every year for a long time. Now that trend seems to have changed in one place. The New York Health Department reports that obesity rates in kids have been going down the last few years. Kids in NYC are becoming fitter again.
This is attributed to the city's "aggressive advertising campaign against sugary sodas". They have also "enacted strict rules on the calorie and sugar content of snacks and drinks in school vending machines, and even put limits on bake sales".
Get rid of the sugar (and starch) and kids get fitter and healthier. Hopefully this can be an inspiration.
What the US needs
Why not show this NYC commercial on every channel in the US, it might save a few million lives:
Nice wake up call, don't you think?
Other media
NYT: Obesity Rate Falls for New York Schoolchildren
Food Politics: Good news! Childhood obesity rates declining in NYC
More
A diet book for kids (!) and what it can teach us
The American obesity epidemic 1989 – 2010
PS
Of course the mention of low-fat milk at the end of the commercial is simply wrong. Even the people in NYC have some things left that they need to understand.