More Questions and Answers on LCHF
Here are assorted questions and answers from my mailbox:
Cholesterol
Q
Hi Doc,
I'm a 43yr old female who has lost over 100 pounds, the last half of which has been primarily on a keto/paleo low carb, high fat diet while intermittent fasting (20/2) and exercising regularly. My problem is my blood results and more importantly what they mean to a medical I will need to pass for employment. The job I am hoping to apply for demands a rather strict medical and my high LDL will most likely count me out. They won't care about particle size and even if my other markers are good they will point at the LDL. I'm looking for advice on what my options might be. So here are my most recent results: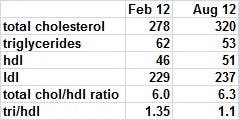 The LDL figure is the concern even though I know that it doesn't tell the whole story and doesn't necessary mean I'm going to die of a heart attack tomorrow. In fact, if it wasn't for this job I would be relatively happy with my results and just continue to lose weight and do what I've been doing thus far. I've heard all about LDL particle size and VAP tests and the like however I am in Australia and I don't think those tests are available to me. I know also that while losing weight LDL can increase and you may not show an improvement until weight has stabilised. But regardless of all that, I'm going to be judged on just that total LDL figure for this medical (regardless of particle size) even if it's not the best indicator of my health. I have an excellent tri/hdl ratio which I hear is a much better indicator. I may not get the opportunity to apply for this job for another 6mths and in the meantime I really want to improve that LDL figure to give me a chance of passing the medical.
Do you have any suggestions for someone like me who needs to lower that overall LDL figure for my job of choice? It is very difficult to be judged on a marker that may have little to do with my overall health but that is the catch 22 I find myself in.
I greatly appreciate any guidance.
Cheers!
A
Hi!
I wouldn't worry about the health implications of your numbers either. However, just in the interest of improving that LDL number and getting that job, here's what you can do:
Eat less saturated fat (like dairy fat) and more monounsaturated and omega-3 (like olive oil, avocado, fish).
Eat less fat and more slow carbs (like potatoes, root vegetables, brown rice).
The first option likely won't slow weight loss at all, the second might. But combining them may be necessary to get that LDL to where you want it.