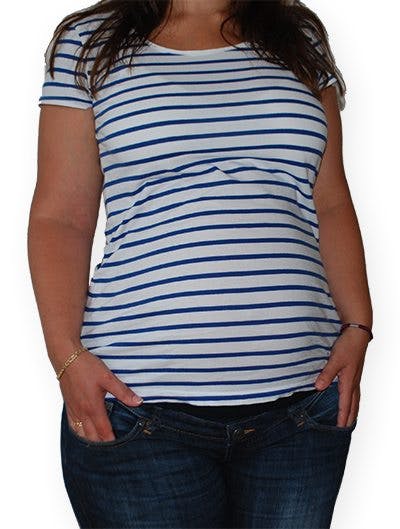 Here is a picture of my partner. She usually does not want to appear on my blog, but I convinced her to make an exception today.
Judging by the not completely flat stomach, you might think that LCHF is bad for the weight. Although you'd also have to consider that she is nine months pregnant, with our first baby. We'll see the final results around September 3. But so far avoiding sugar, bread, rice and pasta has been quite a success story.
Common Problems
Many pregnant women these days gain a disturbing amount of weigh, get all swollen and may be diagnosed with high blood pressure or even gestational diabetes. Check out the ring on my partners right hand. The midwife could hardly believe it when we were there last week, but there is not the slightest problem with rings. There is no swelling.
Perhaps my darling has drawn a lucky ticket in the genetic lottery. But this spring, that's not what it looked like. She became increasingly swollen, especially over the lower legs, and it was getting painful. The difference is that she ate considerably more carbs back then, because all the recommendations said that is important during pregnancy. I didn't believe in those guidelines. But that didn't matter much – you don't get to be a prophet in your own home.
The solution
The turnaround came during the low carb cruise in early May. She talked to Dr Michael D. Fox , a specialist in fertility, who said that of course the swelling would go away if she avoided carbs, and yes, it was completely safe. He said that pregnant women are usually extra sensitive to sugar and starch (something that professor Lustig has later explained the reason for).
So she abruptly stopped eating sugar, bread, pasta, potatoes and rice. And in two days (with plenty of urination) all the swelling was gone. And that's was it. She has continued eating strict LCHF because it has worked so well.
She still feels great. Her blood pressure is perfect. The amount of weight gain is just right. The stomach grows just as it should (the curve follows the mid-line) and inside there seems to be a spirited little Paleo-baby. Now we're just waiting to meet her.
More