Don't miss out on our weekly meal plans!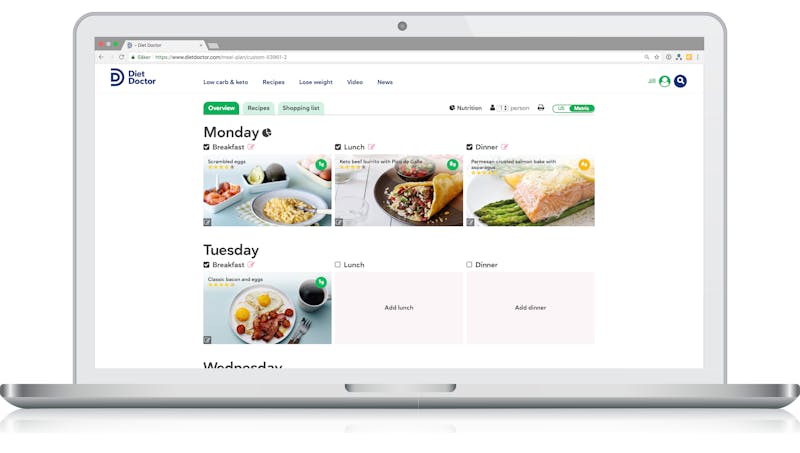 Do you find it challenging to get started on a keto or low-carb diet? Does it feel overwhelming to find the inspiration and to cook your own meals? Maybe you just don't know where to begin?
That's where we come in:
We'll help you practice the low-carb way of eating. We have over 90 customizable meal plans available. Kickstart your health journey with our free 2-week meal plan! You'll get meal plans for two weeks – three meals a day, shopping lists, tips, and pep talk emails.
With our meal planner tool, you can customize your weekly meals in a way that works for you and your dietary needs. Maybe you're a vegetarian? Perhaps you have a narrow budget? Or maybe you want to stay away from dairy? Whatever it might be, we try our hardest to make it work for you!
If you want to continue, sign up for our membership, the first month is free:
Join free for a month
More
Learn more about the low-carb meal plan service
Find our latest keto meal plans below.
Top keto recipes
What is everyone else eating? Check out some of our most popular keto options that thousands of readers come back to, time after time. These tasty dishes are keto favorites for a reason:

Latest keto meal plans
Missing cheeseburgers, pizzas, tacos, and BLTs on your keto diet? Well, you don't have to. This meal plan really proves how for every high-carb favorite there is a delicious keto alternative. This week's meal plan brings you some of those favorites. But of course they are all jazzed up and turned into healthy meals by our keto recipe wizards. It's like having your cake and eating it too.
This meal plan will keep you below 18 g net carbs per day. How great is that?
---
Are dairy products slowing your weight loss or holding back your health gains? Try a week of dairy-free meals and see. This meal plan also brings in intermittent fasting (16:8), skipping breakfast every day. These two adjustments may speed up your weight loss and help reduce insulin resistance and reverse type 2 diabetes.
You won't go hungry. You'll enjoy great meals like keto Asian chicken with peanut coleslaw, a classic keto hamburger and keto crab cakes with cucumber salad.
This meal plan will keep you below 19 g net carbs per day.
---
Keep it simple with this amazing ketogenic meal plan that is packed with delicious meals but only uses just a few ingredients. You get to enjoy three meals per day and you'll still keep below 14 g of net carbs per day. Great, huh?
To make your shopping list even shorter you don't need to use different kinds of cheeses, just go with your favorite one. Mozzarella will work with all of the recipes but if you like more flavor go with a tasty, sharp cheddar instead.
You can also skip fresh herbs and use dried spices and veggies that you already have at home.
---
We're not just fishing for compliments: we know that if you are following a keto diet, and you LOVE fish and seafood, this just might be the meal plan of your dreams! This week you will get to enjoy the bounty of the sea in low-carb dishes like a creamy keto seafood chowder, fresh salads with tuna and smoked mussels, perfectly seared salmon with tender asparagus, and a crazy quick and delicious hollandaise sauce. Will you take the bait?
This meal plan will keep you below 20 g net carbs per day.
---
Longer days with more light; the warmth of the sun coaxing everything into bloom. Yes, spring is in the air.  And while we all love cheesy casseroles and hearty stews, in spring our fancy turns to lighter, fresher meals with vibrant young veggies, cold plates, fresh herbs and tart bright flavors like the refreshing burst of lemon.
With this spring-inspired meal plan starts off the week with a breakfast of vegetarian keto scramble and grilled pork skewers with ribbon zoodles for dinner. Eat leftovers for lunch, or skip it. Other fare during the week includes a keto salad Niçoise, a seared salmon with asparagus and a lemon-flavored chicken soup.
This meal plan will keep you below 20 g net carbs per day.
---
More