Don't miss out on our weekly meal plans!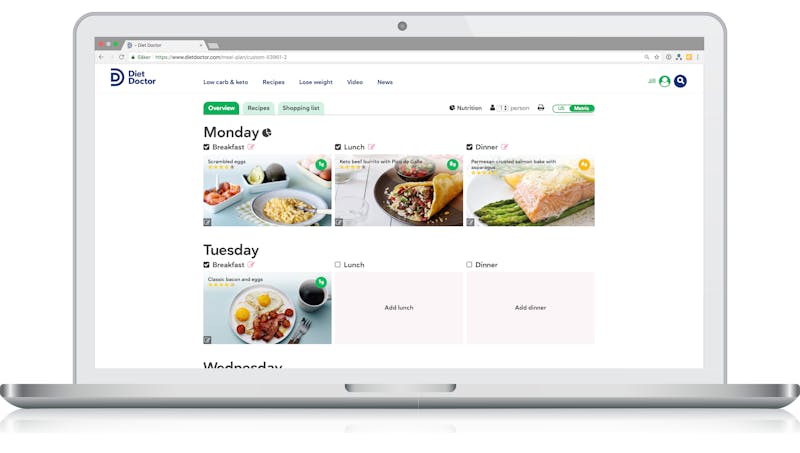 Do you find it challenging to get started on a keto or low-carb diet? Does it feel overwhelming to find the inspiration and to cook your own meals? Maybe you just don't know where to begin?
That's where we come in:
We'll help you practice the low-carb way of eating. We have over 90 customizable meal plans available. Kickstart your health journey with our free 2-week meal plan! You'll get meal plans for two weeks – three meals a day, shopping lists, tips, and pep talk emails.
With our meal planner tool, you can customize your weekly meals in a way that works for you and your dietary needs. Maybe you're a vegetarian? Perhaps you have a narrow budget? Or maybe you want to stay away from dairy? Whatever it might be, we try our hardest to make it work for you!
If you want to continue, sign up for our membership, the first month is free:
Join free for a month
More
Learn more about the low-carb meal plan service
Find our latest keto meal plans below.
Top keto recipes
What is everyone else eating? Check out some of our most popular keto options that thousands of readers come back to, time after time. These tasty dishes are keto favorites for a reason:

Latest keto meal plans
The rumors are true! Since bacon is full of protein and fat with no carbs, you can eat bacon every day on a keto diet.
This week, we highlight our favorite recipes that include — you guessed it — bacon. In this meal plan, you will enjoy recipes like Keto cheeseburger meatloaf, Keto cobb salad, and Crispy bacon and kale with fried eggs.
What is it that makes bacon so addictive? Is it the aroma? Is it the sound of the bacon sizzling in the pan or the sight of the beautifully crisp, fatty meat? Perhaps you would agree that it's the first salty, smoky bite. It's no wonder why bacon is loved by many.
Pro tip: Make sure to buy good quality bacon without sugar. Check out our bacon guide for cooking tips and more helpful information. You can also mix it up by using turkey bacon or beef bacon in place of pork bacon.
---
If you want to lose weight while still enjoying amazing food, we've got the perfect meal plan for you.
To help turn you into a fat-burning machine, we've decided to employ intermittent fasting (16:8) in this week's meal plan. This means your first meal will be at lunch — but feel free to drink coffee, tea, and of course, water throughout the day.
This mouth-watering ketogenic menu will keep you way below 20 grams of carbs per day. It includes some popular budget-friendly meals, such as our No-bean keto chili and Crispy tuna burgers, plus a few more elevated meals like our
Ribeye steak with loaded cauliflower mash.
Remember, you can always swap pricey ingredients such as ribeye with cheaper protein options such as chicken thighs or pork chops. Just make sure to adjust the cooking time as needed.
By skipping breakfast, you'll automatically save money that you could potentially spend on higher-quality ingredients such as grass-fed beef and organic eggs — a good investment for your body, the animals, and the environment.
---
Italy is world-famous for its tempting high-carb foods like pasta and pizza. But don't you worry! In this week's Italian-inspired meal plan, we have "keto-fied" your favorite dishes for you.
On the menu, we have our keto chicken zoodle al Limone, which consists of moist chicken thighs smothered in a creamy sauce with Parmesan, lemon, and thyme served on a bed of spiralized zucchini.
Additionally, we've included our savory turkey meatballs, as well as our keto pizza omelet — a cheesy, omelet-quiche hybrid that's sure to satisfy.
Enjoy the heart of Italy in your kitchen with this flavorful collection of keto meals that will keep you well below 20 grams of net carbs per day.
Buon appetito!
---
Following a healthy dairy-free diet doesn't have to mean depriving yourself — and this week's meal plan is proof of that.
On the menu, we have some spice-heavy keto dishes like our Sindhi-style lamb curry. Additionally, there are some quick and easy weeknight favorites such as our tasty tuna zoodle salad and chicken stir-fry.
While following this plan, if you're not a big fan of certain ingredients, feel free to swap them. If, for example, you don't enjoy eating lamb, you could always substitute it for chicken or beef.
The same goes for vegetables. If there's something you don't fancy, change it for another low-carb veggie. Check out our visual vegetable guide for more inspiration.
Get ready to enjoy some of our favorite keto meals while staying below 20 grams of net carbs per day.
---
You've probably heard of "One meal a day" (OMAD) fasting, where — as the name suggests — you eat just one time per day to achieve safe and effective weight loss.
With this OMAD meal plan, you'll do just that. This week, we've created a stellar lineup of nutritionally balanced, delicious meals that are sure to stave off any hunger pangs. And you'll also consume less than 20 grams of net carbs per day. How great is that?
Remember, it's important to keep up your hydration while following OMAD. Drink lots of water — and you'll be glad to hear that black coffee and tea are fine, too.
---
More