Don't miss out on our weekly meal plans!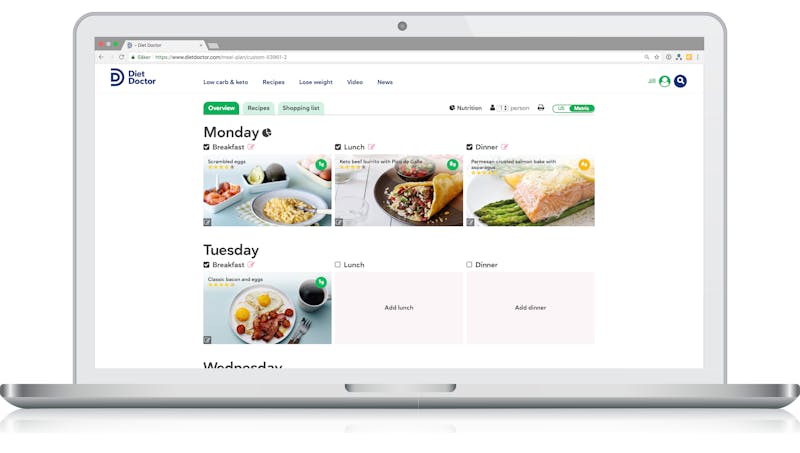 Do you find it challenging to get started on a keto or low-carb diet? Does it feel overwhelming to find the inspiration and to cook your own meals? Maybe you just don't know where to begin?
That's where we come in:
We'll help you practice the low-carb way of eating. We have over 90 customizable meal plans available. Kickstart your health journey with our free 2-week meal plan! You'll get meal plans for two weeks – three meals a day, shopping lists, tips, and pep talk emails.
With our meal planner tool, you can customize your weekly meals in a way that works for you and your dietary needs. Maybe you're a vegetarian? Perhaps you have a narrow budget? Or maybe you want to stay away from dairy? Whatever it might be, we try our hardest to make it work for you!
If you want to continue, sign up for our membership, the first month is free:
Join free for a month
More
Learn more about the low-carb meal plan service
Find our latest keto meal plans below.
Top keto recipes
What is everyone else eating? Check out some of our most popular keto options that thousands of readers come back to, time after time. These tasty dishes are keto favorites for a reason:

Latest keto meal plans
Not a fan of eggs? Allergic to them? Or maybe just really, really tired of them? We hear you! This week's meal plan doesn't have any eggs but is as delicious as it is filling. Enjoy three meals per day while keeping your carb intake below 20 grams per day.
Need inspiration for lacto-ovo vegetarian dishes on keto? Look no further! This week's meal plan offers three hearty meals per day. All keto, all vegetarian and keeps you below 20 grams of carbs per day.
This week's meal plan offers three filling meals per day and you stay well below 20 grams of carbs. Enjoy a mix of no-cooking and homemade favorites like the classic Fat Head pizza and crispy chicken wings.
This week's meal plan offers easy-to-make dishes with 5 ingredients or less. Perfect for a busy week when you want to enjoy good and healthy food without spending too much time cooking. You'll enjoy a variety of keto meals, all very low in carbs. This week you'll stay around 10 grams of carbs per day.
It's time to fire up the grill and do some outdoors cooking! This week you'll enjoy dishes like a classic burger, grilled tuna, bbq ribs and much more while staying below 20 grams of carbs. Oh, and if the forecast shows rain, you can cook these dishes inside or change them for something else.
More